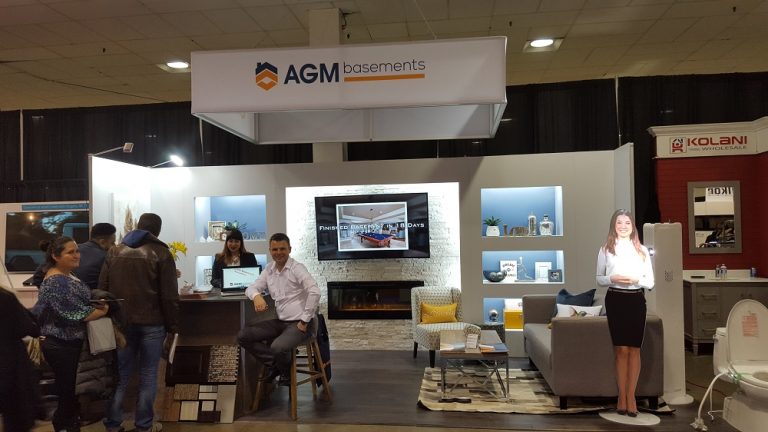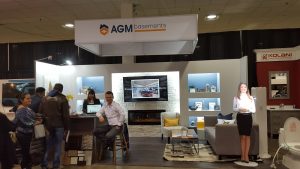 February 21, 2017 – If you're looking to stand out at your next trade show appearance, the use of digital marketing materials is a great way of doing it.
After all, we're living in a digital age with computer screens everywhere.  A company that wants to look up-to-date should mirror that, unless it specifically conflicts with their image somehow.  Even then, subtle use of digital materials can usually be integrated into trade show booths in an "old meets new" fashion.  Since literally anything can be displayed on a screen, there are nearly endless opportunities to use digital devices to enhance your presentation.
Plus, of course, chances are you already have plenty of tablets or smartphones within your company.  In some cases, you may not even have to purchase much new equipment.
Integrating Digital Presentation into Your Exhibition Display
Touchscreen TV Kiosks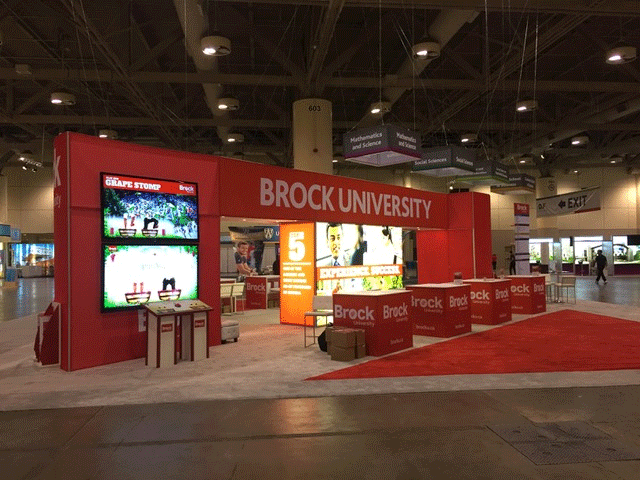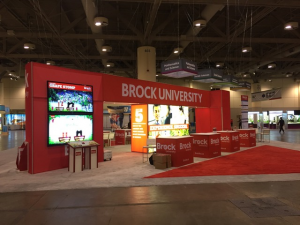 This is one of the pricier options, but delivers almost unparalleled flexibility and audience appeal.   They can store a selection of pre-made videos, interactive product demonstrations, Q&As, games, and more.  Even better, the large screens of televisions are a magnet for visitors.  That means that any one person's interactions with it become an impromptu product demonstration for anyone who happens to be wandering by, drawing in even more visitors.
A good touchscreen TV with plenty of content attached can easily become an informational centerpiece of your display, and one which works with little need for employee involvement.  The TV can handle the basics, leaving staff available to chat with interested parties.
Wall-of-Screens Setups
Gigantic video displays are expensive – usually prohibitively so.  However, grids of 4, 6, 8, or 9 smaller screens linked up to act as though they're one display are far more cost-effective, particularly since the displays can then be repurposed for single-screen jobs later.   You might even already have screens in the office which could be used in this sort of setup.  Put flush against your back wall, they're an incredible backdrop to your presentations.
This is a perfect way to run loops of your most visual promotional videos, in a format which is guaranteed to be seen from far away even in a trade show with large crowds.  They're also great for photographers.  It's hard to not look impressive when you're framed against huge video displays.
Tablet Stands
Rather than going for large displays meant to be shared, a row of stands holding iOS or Android tablets are a good option for solo experiences.  Any modern tablet can easily hold a vast range of informational materials, including more-technical product brochures and slideshows that wouldn't be readable on a large screen.
Tablet displays are also a good option for activities such as contests, e-mail farming, or making social media connections.  They could also be used as a convenient delivery method for more trade show materials.  For example, setting them up so that anyone who adds their email to your mailing list gets sent a list of links to download any/all of the materials you're using in the show.
Video Banner Stands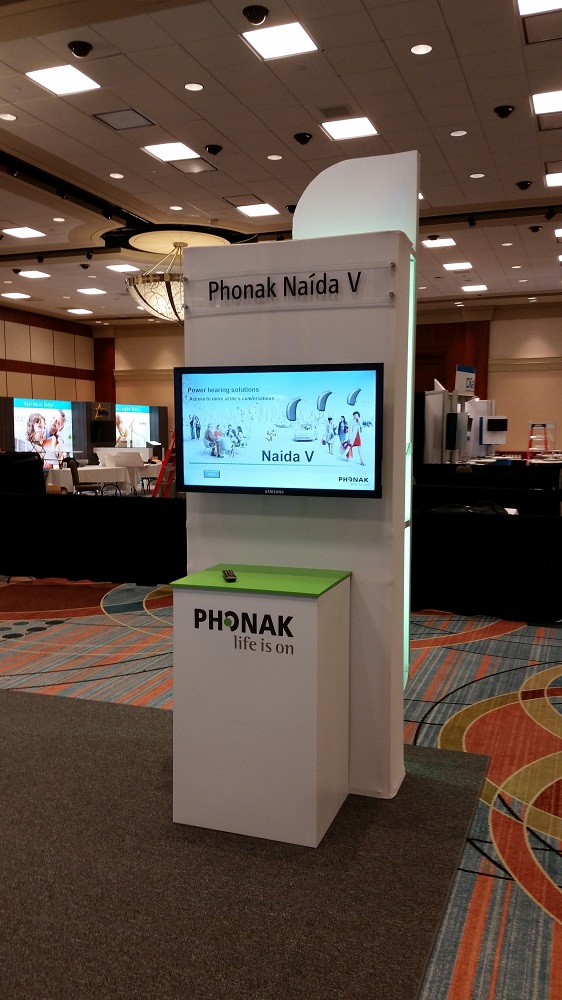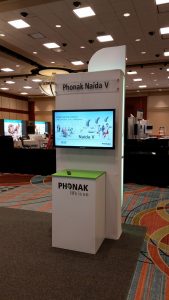 This is one of the newest technologies to hit trade shows in recent years:  Banner stands that incorporate screens as part of their design.  These video banner stands are much like tablet stands, except they're somewhat more public and usually stationed near the outer edges of a trade show display.  They're a good choice for displaying introductory materials meant to entice visitors to explore the interior of your booth.
Another option here is to turn a screen into a banner stand.  So-called "ultra widescreen" displays with a 21:9 aspect ratio (or even thinner) could be placed in a portrait orientation and effectively turned into full-video banners.  They might not even need to host content.  Simply having animated logos or similar graphic elements would look impressive.
Bluetooth Beacons
Bluetooth Beacons are growing in popularity in a wide range of venues.  They're inexpensive, low-power, and can be used to directly connect to the smartphones and tablets of visitors to your booth.  They can beam promotional materials or messaging straight to visitors' phones.  Additionally, they can be used to collect valuable data on how people interact with your trade show display, since they can track visitors' movements around the booth in far more detail than a human could.
With over thirty years' experience in the trade show industry and a long list of awards, we're one of Canada's leading all-in-one trade show display designers and vendors.  Contact us for a free consultation on your next appearance!