August 19, 2014
Do you know nearly 71 percent of B2B marketers rate tradeshow events as their most useful marketing tactic? Apparently so, as the Content Marketing Institute has published this fact in its 2013 B2B Enterprise Content Marketing Report. So what makes in-person events an important resource for a company's marketing toolkit? Let's find out.
The importance of making a positive impression on existing and new customers at a tradeshow event can never be overestimated. If everything goes smoothly, a well planned tradeshow exhibition not only attracts customers, but also boosts up a company's sales and profits. You simply need to design an attention-grabbing, persuasive display that draws in a crowd.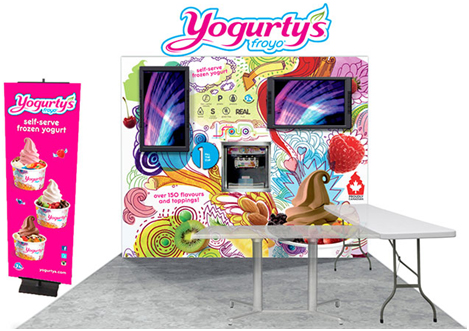 Find tradeshow marketing a bit complicated? Eager to understand the ins and outs of using trade show displays to bring your products into the limelight? Continue reading to get the basic information about trade show displays and banners:
Tradeshow Participation – an Important Component of a Company's Marketing Plan
Your aim in participating in a tradeshow is to attract the right audience to visit your booth, speak to your employees, and/or check out your products or services. This does not happen by chance. Instead, it demands strategic thinking and forward planning. You may be using numerous marketing channels to spread your message around, but exhibitions are one such tool that brings you in direct contact with customers.
A Chance to Establish Relationships
Tradeshow participation is the best way to meet your existing customers and welcome the new ones to join your network. Many modern tradeshow booths are designed to include lounge rooms or reading rooms where visitors can get information about your company in a relaxing environment. Let's say you are exhibiting food products, so provide them with a few free samples to create a good impression.
A Chance to Display Your Products
One of the greatest reasons a custom-made tradeshow display attracts larger crowds is because it exhibits your business and the offered products clearly. Giving people a chance to see, touch, and feel your products, a tradeshow booth enables them to learn more about your offerings. Make sure to make your products look appealing on the display as it tends to attract more visitors.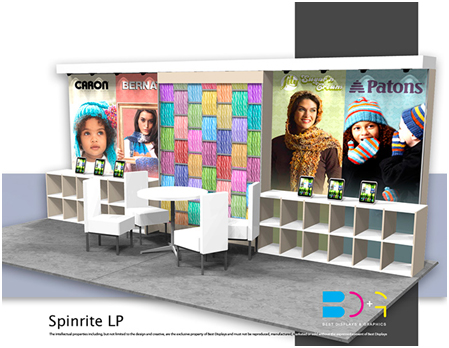 Factors You Should Consider While Designing a Tradeshow Booth
If you've ever been to a tradeshow, you might have noticed the disparity. While some tradeshow booths are well-equipped, lively, and crowded, others seem to have no "zing" at all.
Though many businesses have started using tradeshow events as a marketing tool, many still wonder if their time, effort, and money are worth it. With the right strategy and proper planning, your tradeshow booth can generate enough buzz and achieve the results you're looking for. The following are a few factors that you shouldn't ignore while designing your tradeshow booth:
Functionality
You should consider a number of elements to figure out the ideal booth setup. For instance, you may want to determine the dimensions of the available space, lighting arrangement, and ceiling height. This will help you understand how you should set up your tradeshow booth to make it more inviting.
Ask yourself the following questions to get the most out of your tradeshow booth:
 Is it spacious and open?

Can visitors move freely?

Does it exhibit products in an attractive manner?
A table arranged at the front of your booth can make the space look congested and uninviting. Design your booth such that people don't feel trapped. You can even create multiple stations in the given space where people gather information about your company, offered products, or discount deals.
Creativity
The Look
Not all functional tradeshow booths have the wow factor. Choosing bespoke booth for your exhibition might be a good idea as it gives you the freedom to flaunt your brand image your own way. Don't find neutral shades attractive enough? Customize a vibrant, bright booth. A combination of fliers, logos, and banners may serve your needs well. Even if people don't need what you're offering, chances are they'll be attracted by your colorful display.
The Design
Tradeshow events have innumerable booths where every single business stall has a few seconds to capture a potential customer's attention. Creating a great visual impact with clear, simple messaging is essential to lure people in. A booth should simply be a backdrop, and not a multi-colored brochure. Let people walking by get impressed by your professional booth design. Help them identify who you are, what you do, and what you offer.
Graphic Design Elements Companies Should Consider
Professional Branding
Make sure your brand doesn't get affected by other graphic elements. Make it consistent with other promotional materials as it is the tool that can strengthen your company's professional image. What's more, it can help people remember your business in the sea of booths.
Visually Appealing Images
Think the largest booth in the hall gets the most attention? This may not be true. You simply need a carefully designed booth and effective planning to get the best results from your tradeshow participation. Intelligently designed, vibrant, and big images are sure to draw in your customers. Let your chosen pictures make your display look interesting and inviting.
Attention-Grabbing Components
While attending a tradeshow, you may not have more than 3 seconds to get a visitor's attention, so use every moment efficiently. A few booth attractions that can make you different from your competitors include hands-on activities, live entertainment, interactive games, food, giveaways, and audio-visual programs.
In the current business environment, almost every company is likely to face severe competition with other companies that also strive to get into the spotlight with their creative, practical tradeshow booths and displays. Think you don't have the right resources to compete with industry giants in tradeshows? Fortunately, you can go through the product collection of Best Displays & Graphics to choose a display that not only helps you stand out, but also take you to the top.
Getting a unique, custom-made tradeshow display is easy with Best Displays & Graphics. The company offers a vast range of banners, stands, exhibits, truss displays, tension fabric displays, banner stands, and more at affordable rates to help you educate, entertain, and attract more customers. Contact one of our Representatives today to start your next project!