December 9th, 2014
The flexibility of retractable display banner stands empowers companies to maximize the results from their marketing campaigns. While these systems are ideal for trade show advertising, they're also the requisite product for a broad range of promotional requirements. In this blog, we'll look at several applications for retractable display banner stands.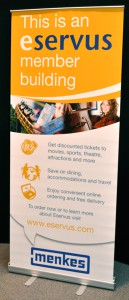 Corporate Lobbies
Retractable banner stands represent the ideal promotional tool for pinpoint branding within a corporate lobby area. One of the leading benefits of the products is that they can be placed in areas where this is limited space. They will give visitors a glimpse into the company branding without impeding traffic flow within an important company location.
Showrooms
Banners stands can be utilized effectively to display product information within showrooms at locations such as dealerships. Because these systems are designed for standout appeal, they can help draw the attention to promotional events while offering a compelling insight into the product and its performance.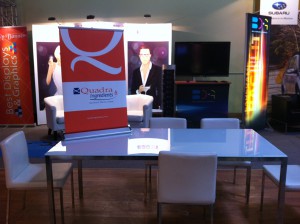 Retail Spaces
Within the modern retail environment, there is limited space for large and elaborate displays. Businesses require small display systems that make an immediate impact on shoppers to ensure brand messaging is direct and informative. Retractable displays can be the requisite choice in this type of environment, as they can easily be set-up quickly at the beginning of the day and then removed when the store closes.
Choosing retractable display banner stands provides businesses with a value for money promotional tool that will empower marketing success in a range of environments. To learn more, discuss your options with a trusted Best Displays expert.