July 12, 2016 – Not every exhibition happens indoors!
A business has plenty of opportunities to advertise itself in outdoor events, such as markets, open-air trade shows, sporting events, local concerts, county\state fairs, and a wide variety of other activities.  Sometimes, these can even be more effective in boosting local mindshare, specifically because there are often fewer competing booths set up.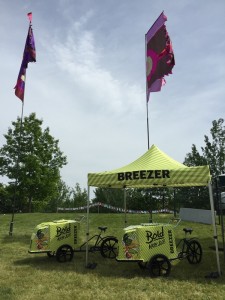 However, that's only true if you take time and care when designing your outdoor display.  While it's easy to "cheap out" when setting one up, that can easily become self-sabotage.  Treating outdoor events with the same level of commitment you would an indoor event can create a great response, while bringing you to the attention of those who might not encounter you otherwise.
Every display is a reflection of your brand, so make it the best one possible!
Making The Best of an Outdoor Event Display
Stand out!
Many outdoor events can be extremely crowded, and can often have a much wider range of distractions keeping people from entering your booth.  In the event you're at a state fair, you're probably competing with an entire midway of carnival rides and games, so you need to try that much harder to catch people's eyes.
Use plenty of flags and banners which are raised above crowd level for maximum visibility.  Modern dye-sublimation printing processes can make them especially bright, even under direct sunlight.  On the other hand, if it's a nighttime event, you can never have too many lights.  Lights draw in people.
Don't forget about sound.  Most outdoor events are much more permissive about sound equipment, so you can use music or announcements to bring people to your booth.  Check the exhibitor's manual or contract to be sure it's permitted.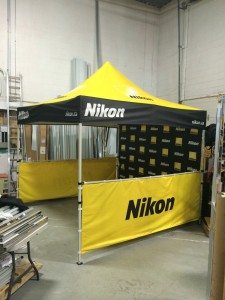 Get serious with your presence.
Like we said above, don't try to skate by with the bare minimum.  Use fully-branded items wherever possible.  Don't have a naked table, have a nice-looking branded tablecloth over it.  Have plenty of banners and other signage.
Just keep the environment in mind.  Many traditional trade show displays, like pop-up stands, are too lightweight to stand up to windy or rainy conditions.  Watching one of your displays go sailing off into the sunset won't create a favorable impression. . . although it might garner some sympathy.
Use a big tent.
We're not even sure what it is, but there's something about having a big tent that makes people want to come visit – even more so if the tent is partially obscured from the outside.  Having the biggest tent at an outdoor event is usually a good way to ensure it has some of the highest attendance as well.
Just be sure you've got enough activities and displays to fill up the space inside.
Provide refreshments and comforts.
Outdoor events are, of course, subject to nature's elements.  Think carefully about the weather forecast for your display day(s), and plan accordingly.
When it's going to be hot, have plenty of cool drinks.  If it's cold, have some space heaters and seating.  Seating is a good idea in any case, especially if it's reasonably comfortable.  (This is a great way to fill out that big tent.)  Consider other reasons people are attending the event, as well.  In the event there's going to be a concert later, try giving out some glow-sticks!  And don't forget, most items -including packaged food and drinks- can be sourced to show your branding, if you're planning far enough ahead.
These sorts of tactics are often far more effective at outdoor events, and can easily turn your space into a gathering point for visitors – potentially including the VIPs.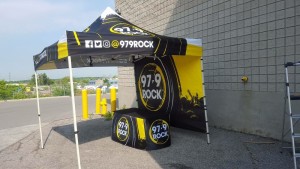 Purchase materials with an eye for reuse.
While there are many indoor trade show materials which aren't suitable for outdoor use, there are very few outdoor products that can't be used indoors as well.  So just about anything you purchase for an outdoor display, aside from perhaps the biggest items, can probably be repurposed for later use in your future trade show appearances.
This is a great way to help justify spending a bit more on your outdoor booths and tents, since the costs can generally be spread out over several shows to come.
Need a display or rental?
Do you have an exhibition coming up, whether it's indoors or out?  Best Displays & Graphics has the expertise and experience to guarantee it's the best appearance you've ever made!  We can help custom design your display, and we also provide many more trade show services and options.