February 24th, 2015
Trade shows have existed for many years and their roots trace back all the way to the ancient bazaars of the Middle East. It is here that merchants would display their wares and hope to attract the eye of passersby. This tradition also continued in Medieval Europe when craftsmen or farmers would travel to open-market trade fairs. History has shown us that people have been attending trade fairs all over the world for many years and for good reason.
As technology keeps rapidly advancing, the need to showcase new products has been more important than ever. But an age old question still exists to this day: how do you attract individuals and entice them to purchase your specific product? 
Whether you are an exhibitor who has attended a trade show in the past or are getting ready to attend one for the first time you are probably wondering as to what kind of marketing strategies you can use to plan the perfect trade show. At Best Displays & Graphics, we are one of the leaders in creating unique and eye catches set ups for customers in all industries. To keep at the forefront of our own industry, we must attend many design trade shows ourselves. This not only keeps us up to date with all the new trends and technology in display but puts us down in the trenches and gives us first-hand look at which techniques work best for exhibitors. 
Ask Preliminary Questions
Unlike at any other point in history, a huge portion of your trade fair marketing strategy should involve creating eye catching displays. Otherwise, regardless of how amazing your product may be, attendees may fail to notice you. Bigger may not always be better, but an extravagant display will draw more people in.
First and foremost, it is necessary to ask 3 preliminary questions:
Why are you choosing to exhibit your product at a trade show?
What are the goals of your company?
What kind of display will support your goals?
Depending on your company's unique answers to these questions you can better determine what kind of display supports your goal. Ask yourself would your company prosper from portable display for lead generation in various environments? Larger displays with backlighting tech to stand out against competitors especially if launching a brand? Tablets for easy lead generation? Promos/handouts for brand launch? Or space for product demos?
What Other Strategies Should be Used in Addition to Displays?
It is crucial to not limit your company to by only creating stellar graphics and displays. Compliment your trade shows/ event participation with social media marketing; promote your events on twitter with custom hashtags, post photos and videos to Facebook throughout the event, and follow up and connect with potential leads on LinkedIn.
It is also beneficial to follow the basic rules for success when creating a marketing strategy:
Plan in advance and do not forget that you will be exhibiting
Be a speaker as well an exhibitor
Determine the goals of the trade show
Create an engagement plan
Develop a follow-up strategy
Schedule a post-event meeting with your marketing crew
Offer passersby a gift
Stand out and engage with attendees
For any other questions to consider when deciding what kind of booth may work best for your trade show goals – please view the Flow Chart below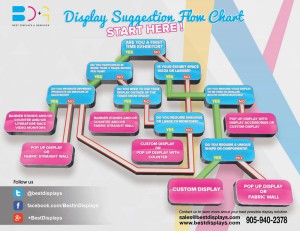 …
More and more businesses within the Greater Toronto Area continue choosing Best Display & Graphics because our services have been proven to work. At Best Displays & Graphics we offer customers a wide range of product spanning from pop-up displays, banner stands, flag banners, literature racks, flooring, kiosks, table cloths, and drug identification kits to name a few. Along with their products and services we offer something invaluable: new customers who are interested in purchasing your product.
Best Displays & Graphics is the best choice for all of your trade show design needs in Canada. If you are ready to design a display or a meeting space, contact Best Displays and Graphics today for a free quote. To learn more about Best Displays & Graphics' full line of products and services or guidance on how to create the best trade show marketing strategy you can contact us by email at sales@bestdisplays.com, over the phone at 905 940 2378 or directly at our Markham office and showroom address:
Best Displays & Graphics
7676 Woodbine Avenue
#10 Markham, Ontario
L3R 2N2