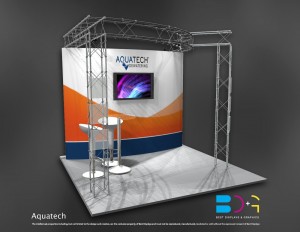 December 17, 2015 – Truss display products are swiftly gaining in popularity across the trade show marketplace as companies begin to appreciate the subtlety and flexibility they can provide in terms of both branding and trade show appeal. With the goal of making a lasting impression as we move into 2016 and the year's coming events, many business owners are now reviewing truss display products. Here, we'll take a look at how to design a versatile, memorable truss display for business events.
Consider Shapes Carefully
In designing a high caliber truss display, the audience's impression is a leading consideration. Younger audiences will appreciate fun, unique shapes while older, more traditional business audiences might prefer classical, stylish square and rectangle shapes within the truss display design.
Choose Refined Display Components
Components are an area in which companies can stand out with their truss system. To make instant impressions on their event audiences, many are now integrating options such as large-screen LCD screens. These screens can be used to play how-to videos or to highlight the company's products and services. Consider the interaction between the screen and audience and how the display will play a role in that interaction. For example, companies could add a podium to the edge of their truss system to take questions from audience members.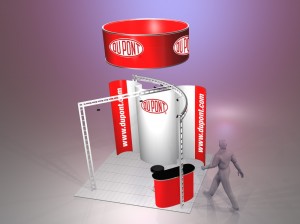 Evaluate Available Space
Before buying their truss display, it is important business leaders consider the space they'll need at the event. Will there be a need for guests to walk around the truss display area? Will there be a meeting space within the display? By answering these questions, business owners can begin to pinpoint the ideal display for their marketing objectives.
Our trusted team is available now to answer your truss display questions. Contact us directly to learn more!