August 2, 2016 – Trade shows are still one of the most unique and effective forms of outreach a company can possibly engage in.  No other kind of marketing offers the same face-to-face sales and networking opportunities, not to mention the energy and excitement that a trade show can generate.  In a world increasingly moving towards digital solutions, trade shows are a rare opportunity for human interaction and hands-on demonstrations.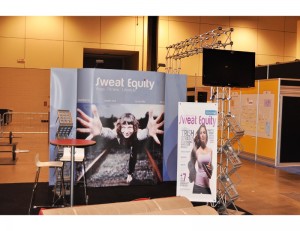 They can also sometimes be expensive.
This means a lot of organizations, especially small-to-medium sized businesses, are increasingly questioning whether trade shows are worth it.  While it's true that a company could spend a significant amount of marketing money on a single show, that doesn't mean a trade show appearance must break the budget.
There are plenty of things a company can do to significantly cut costs on their trade show appearances to greatly increase the ROI of a show.  The best part is, these tricks don't require sacrificing the quality of your display – it just makes your exhibiting appearance more efficient.
Seven Ways to Cut Costs on Your Trade Show Displays
Rent, rather than buying.
This may be one of the best-kept secrets of the trade show market:  Most major display supply companies offer options to rent out equipment such as furniture and stock display stands.  Renting can drastically cut the costs of a single show appearance, or alternatively, allow you to use more or better hardware than you'd be able to afford to buy.
Don't pay for unnecessary quality on one-use items.
Just about any kind of trade show display item can come in a wide range of quality, at different price points.  Framework could be aluminum or steel.  Banners could be inexpensively thin and gossamer, or thick matte fabric products designed for heavy-duty use.
When planning your display, think about which elements are only going to be used once, such as anything with graphics branded for a specific show.  For these items, buying heavy-duty products is a completely unnecessary waste.
Donate items after the show.
One 'hidden' cost of trade shows is that you have to deal with all the equipment and hardware after the show is done.  In many cases, storage and shipping costs for bulky items may outweigh the cost of just buying\renting new ones for the next show.
In these cases, call up a local charity and donate any hardware they'll take.  Much of the time, they can arrange free or cheap shipping, plus you get to write off the costs of every donated item on your taxes.
Source printed materials locally.
Just about any medium-to-large sized city in the world is going to have print shops capable of producing perfectly good printed materials.  Even better, local shops will often have much better prices than larger national chains.  On top of that, since they're local, shipping charges to the show floor will be a fraction of out-of-state shipment.
Pick strategic storage locations.
If you're planning on keeping and reusing a lot of the trade show hardware you buy, don't simply store it back at home.  Pull out a map and think about what shows you'll be attending in the next year or two.  If you can find a central location for storage that's roughly midway between between the various shows, you can save a lot on shipping costs.
Avoid weekend installations.
With so many trade shows beginning on a Monday or Tuesday, that means you have to pay exorbitant weekend installation fees, right?  Nope!  While it's an individual decision, nearly all the exhibition spaces we've worked with are happy to allow display installations a few days in advance.  There's no downside for them, as long as the space isn't being used on those days.  You'll save a lot setting up the display on the Thursday or Friday before the show.
(It gives you more time for troubleshooting too.)
Bundle, bundle, bundle!
Whenever possible, find a single source for as many trade show related services as you can.  You will inevitably get a better deal buying several services from one business, rather than sourcing every service individually.  It can also substantially cut down on manpower costs as well.  All-in-one trade show display services are a great cost-cutter.
Let Best Displays & Graphics handle your next show
Best Displays & Graphics has years of experience in all areas of trade show exhibition, and know how to cut costs. We can provide custom trade show display designs, furniture rental, booth storage and many more services.