Decemeber 18th, 2014
The increasing use of mobile technology by business professionals represents a significant opportunity for the typical trade show marketer. The mobile phone offers a direct connection to the trade show audience. And by integrating specific elements within their trade show displays, Canada-based companies can secure trade show success. Within this article, we'll look at the ways companies can integrate mobile systems within their trade show display.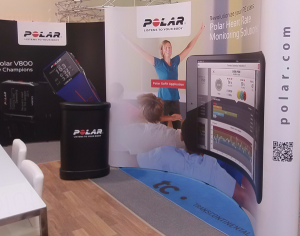 Use Digital Displays to Highlight Real-Time Online Posts
Digital displays can be integrated with monitors in backwalls or stands, tablets mounted on counter tops, or iPad stands. Businesses can connect their at-event trade show attendees with online leads across Canada by displaying their Twitter feed directly within their trade show displays. Social media allows those who aren't able to make it to the event to be a part of the discussion. And the large display will help drive interest within those attending the event, and allow them to get involved in the online discussion themselves from a cell phone.
Use QR Codes to Drive Website Hits
By integrating QR codes within their trade show hands-outs, companies can provide attendees with a direct link to a special offer or website home page. This streamlines the lead generation work and ensures companies make it easier for the attendee to communicate with their organization.
Integrate a Cell Phone Charging Station
As a simple, yet effective, way to meet attendees, display companies could integrate a cell phone charging station within their display. At their station, they might offer promotional materials while beginning the promotional conversation with attendees charging their devices.
Effective trade show promotion requires your most creative ideas. Review the tips highlighted within this article and leverage the appeal of technology for your brand.