May 29, 2014
By providing the best custom booth services in Toronto and giving clients what they want most; value for their money. Of course, this unparalleled customer service isn't the only reason why Best Displays & Graphics sets the standards for custom trade booth displays. After all, a business does not make it big with grits and guts alone. Here is how the Toronto-based tradeshow booth supplier became the best in the industry:
What is Best Displays & Graphics?
The company's name speaks for itself. Best Displays & Graphics is just that; a service that offers the "best" solution for a variety of exhibition products. Some of the many products they specialize in include trade show exhibits, retractable banner stands, graphic design services, counters/kiosks, and more. In other words, the Toronto-based business serves as a one-stop shop for everything you need to make your displays shine at any conference, tradeshow, or any other promotional event in Canada or the United States. The company upholds the highest standards in custom booth design and construction. And it shows.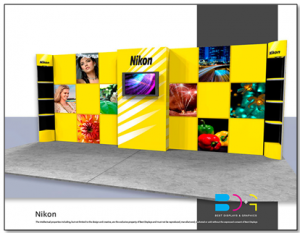 What makes them so great? The company established itself in 1983 which means that it has been in business for a whopping 30 years. What is the secret of its success and how did it become one of the most sought-after portable booth services in the country? Here is how:
Reliable Products and Services
If a company has been in business for that long, you can bet that it has a history of providing reliable services to its clientele. Portable booths are vital marketing tools when it comes to product exhibitions. As a trade show booth provider, the company knows that every brand that has products to display uses the best graphics, hardware, and banners at its disposal to ensure that its booths attract the most number of attendees (read potential customers).
Best Displays & Graphics offers that and a lot more. All of the company's products come with a warranty. Furthermore, the service's graphical products are designed to attract and can be fully customized to suit each client's specific preferences. Plus, the company offers to take care of every aspect of your order from conceptualization to design and the final display is enough proof of their reliability as a service.
Hired the Best People for the Job
You don't have to be a marketing guru to know that a company's reputation accounts for everything. Brand managers will not even think of handing over their marketing dollars to services that they cannot trust. Their own ROI depends on it.

This is where Best Displays & Graphics shines the most. The Toronto-based company only hires the best designers, craftsmen, and graphics designers to provide the best services or to remain competitive in its industry. The company aims to hire people who are experienced in their chosen niche and are qualified as well. In addition, they know what it takes to keep customers engaged. In other words, they know that brands require personalized services or products that will help them relay their objectives to attendees in the best way possible. This is why Best Displays & Graphics offers customized solutions for clients.
What does the Company specialize in the most?
Every company has a trademark service or product that they specialize in. It makes them thought leaders in their niche and allows them to provide a more specialized form of the same services or products. For Best Displays & Graphics, it's their custom booth displays.
Why the company chose to specialize in such a niche is understandable. Marketing is all about customization which means that cookie-cutter templates, banners, or booths that look like everyone else's will hardly make any brand stand out in a tradeshow.
Of course, trends change and trade show displays are no different. This is why Best Displays & Graphics keeps itself updated on the latest trends in exhibits, kiosks, booths, banners, and other products. Why go portable? Brands also market themselves overseas and aim for foreign audiences. The convenience is highly valued for brands who want entire booths shipped to certain locations across the globe.
This is why the company keeps adding new products to its exhibit and tradeshow display portfolio. Their new Blueprint Display solution is a case in point. The product is considered to be one of the most flexible display solutions available. In addition, it is designed with convenience in mind and can be easily reconfigured according to a client's preferences.
Here is how the service works. All the clients have to do is show up at their chosen event. Best Displays & Graphics takes care of everything for them. This includes delivering the client's products or booths at the venue and setting everything up. And the service does not end there. Best Displays & Graphics also offers to dismantle everything and store it for clients after their events have ended.
Success Stories
Best Displays & Graphics set itself up for success when it aimed for big-name brands. This led to continued business with other clients and helped the company expand its customer base at a rapid rate:
It proved its mettle for

Epson

when it provided its tradeshow booth design services by providing multiple booths across the province of Ontario.

The company proved itself yet again when it created multiple displays, graphics, and banner stands for none other than

Ernst & Young.
Best Displays and Graphics also have a number of accolades under its belt. It has already won a number of Best Display awards at events such as the 14th annual Newmarket Home & Lifestyle Show, Toronto Gift Fair, National Athletic Training Association, and the Canadian Marketing Association.
Want to make your own trade show booth stand out at an upcoming exhibition? Contact us and tell us what you need. You can rely on Best Displays & Graphics to provide you with custom tradeshow booths that will wow the crowd.