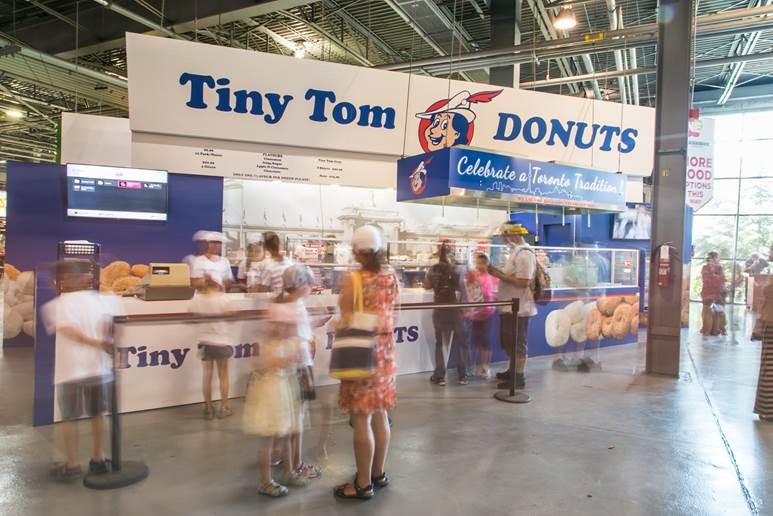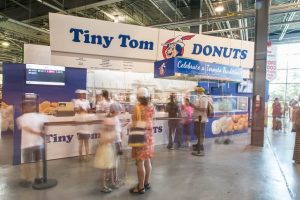 September 29, 2016 — Sure, these days many people probably think "Tim Hortons" when the words 'Canadian' and 'Donut' come up in conversation… but before there was Tim, there was Tom.  The owners of Tiny Tom Donuts had been making fried confections since the 1940's, and their delightfully diminutive donuts quickly became a staple of the annual Canadian National Exposition (CNE). This proudly family-owned business has enjoyed a place of honor there for over fifty years.
So when Tiny Tom Donuts approached Best Displays & Graphics to craft their display for their 57th anniversary at CNE2016, this wasn't just any job. Tiny Tom is a Canadian institution, and we had a half-century of quality and taste to uphold!
Tiny Tom Donuts:  Choosing Best Displays & Graphics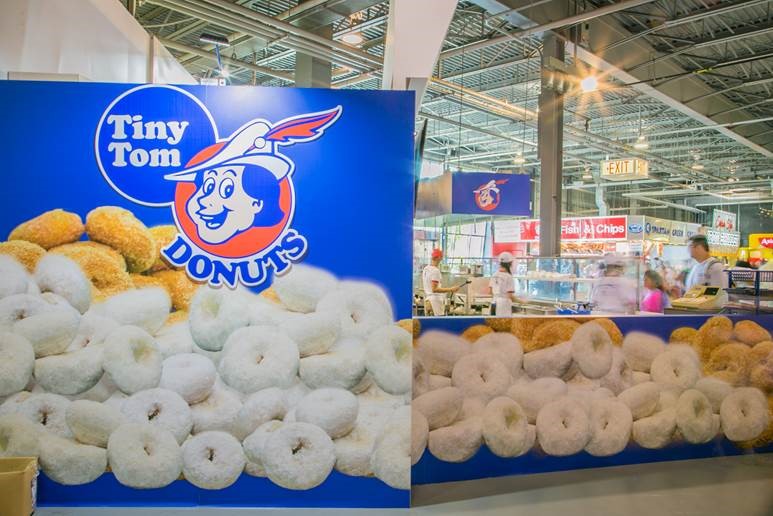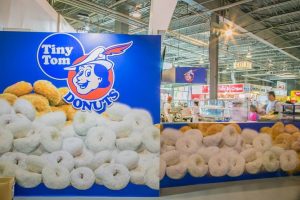 To a certain extent, we got a bit lucky. Tiny Tom Donuts had recently opened up a permanent, walk-in location right here in Markham, so we were conveniently close to them.  Of course, we're far from the only graphics and display company in the GTA! What really made the difference for Tiny Tom Donuts is that we have our own showroom and production facilities. Tiny Tom owner, Tom Brazier, noted, "I chose Best Displays because they were the only company (of three) that responded to my request for someone to meet me on-site at the 2015 CNE on the busy Labour Day Saturday."
Previously, they'd only used a sign supplier for some graphics and otherwise handled setup themselves, recycling materials from their iconic roving stands. Working with us gave them an opportunity to take their CNE2016 appearance to the next level. They got a dedicated in-house designer they could collaborate with directly in creating the display.
Tiny Tom Donuts: Technical Challenges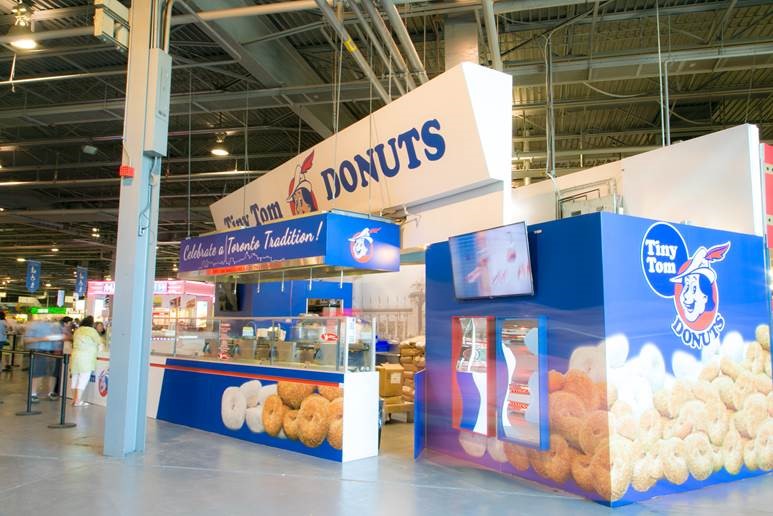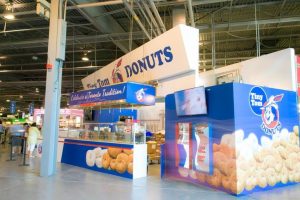 The biggest challenge we faced in creating Tiny Tom's display was that we had to work around facilities at an existing location. We weren't simply throwing up some trusses and tents. They had a full working donut kitchen already in place at the expo, within an existing storefront space.  We had to work around that to include our new graphics and technology.
What this meant was plenty of trips to the expo as it was being set up, meticulously measuring every bit of their space to ensure our pieces lined up perfectly.
The other major challenge was the back wall of their display. They had a lot of electrical and mechanical equipment, necessary to run the donut fryers, as well as storage space and wiring for their audio-visual displays. This all had to be hidden from pedestrian view, without interfering with operation.  
To solve this issue, we turned to our Blueprint Display technology.  Blueprint is a highly modular system, utilizing lightweight aluminum frames and printed vinyl walls. It prevented any significant risk of fire or electrical issue, as well as being easy to install around all the existing equipment.  Most of the visitors probably never even noticed the back "wall" of the serving area was vinyl fabric! Even better, the panels were designed so that they could be easily swapped out, so Tiny Tom Donuts could easily change their look a few times during the expo.
Tiny Tom Donuts:  The Design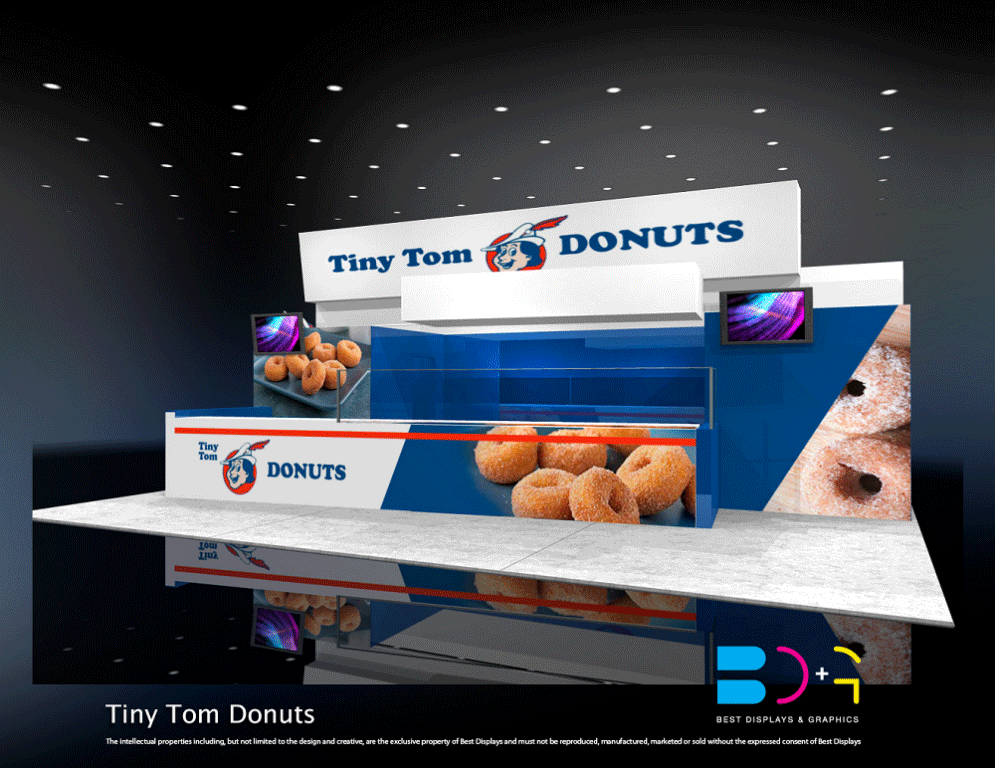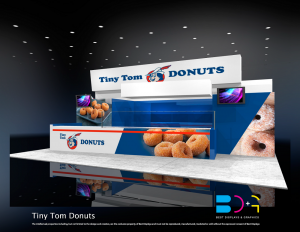 One advantage we had working with Tiny Tom Donuts is they had a long-established brand with well-known iconography, so we could work directly with that. However, rather than using the standard blue-on-white color scheme of their mobile street-side donut stations, we used a bright primary blue as the main color, contrasting against the white of the existing storefront. This made it truly "pop" within the Food Pavilion, and caught plenty of eyes.
Tiny Tom Donuts also wanted audio-visual elements, so we worked directly with them to craft a video to play on loop on a monitor to one side of the display. This was another reason they picked Best Displays & Graphics: we could work on all aspects of the display.  
Mr. Brazier commented, "I wanted to update my exhibit, but did not want to make structural changes…. just improve the visual image. Best Displays did a fantastic job with the digital donut images and a huge sepia background reproduction of the Princes' Gates. Their design and production team put together a wonderful slide show featuring the exhibits and rides from the 50's and 60's CNE that we featured on two 55" television screens."  
Then, to avoid empty space beneath the video, we threw on a couple curvy mirrors, for fun and because of the way they caught the action on the floor.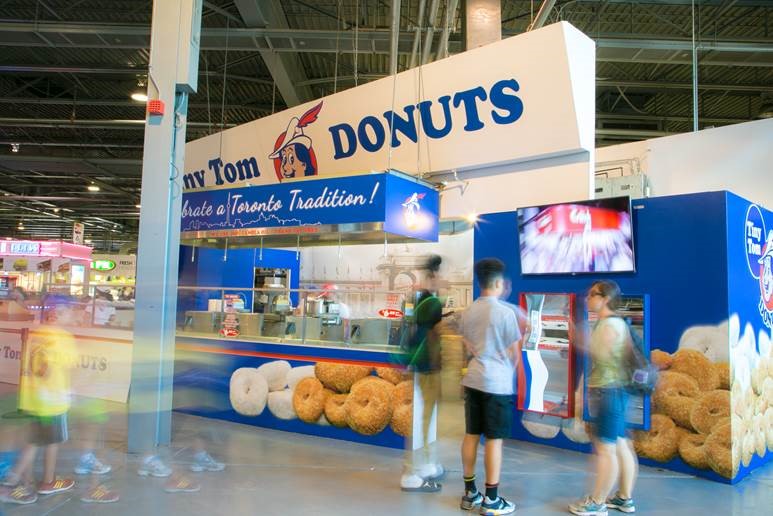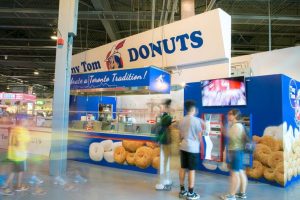 All in all, the display was a huge effort and success. The big panels and technical challenges utilized all our printing capacity. Along with the lead designer, we ultimately had a crew of six people working nonstop on the display for nearly a week!  
Mr. Brazier loved his experience, stating, "Working with Drew, Robin, Matt, Shawn and the rest of the Best Displays team of professionals was truly a great business experience. Their design, production and install teams all worked together to bring this project to a very successful conclusion.  They did what they said they were going to do, on time and on budget. I highly recommend Best Displays to anyone requiring exhibit design, production and installation services."
The end result was definitely worth it, and we look forward to working with Tiny Tom Donuts again for CNE2017!
Get The Best for Your Own Brand with Best Displays & Graphics
We're the top all-in-one trade show display shop in the Toronto area, with production capabilities for every aspect of your display.  Contact us today for a free consultation and cost estimate!