December 15, 2016 – One of the great things about working on trade show booth designs here at Best Displays & Graphics is that we get to work with so many different types of companies. Sometimes they're big established names, but sometimes we like to take on interesting challenges from smaller companies looking to make a name for themselves.
That's exactly what happened when we were contacted by Element Nutrition, a relatively new player in the health foods market with two separate lines of products they wanted to pitch. They needed a great, reusable display which wouldn't break their budget, and that's exactly what we provided.
The Element Nutrition Challenge
As is always the case when we take on a new booth-design assignment, it began with interviews. You can't make a great trade show display without putting the client's needs first.
In the case of Element Nutrition, there turned out to be a couple of interesting twists. First, they had two distinct brands they produce, for two largely separate markets: Boomer Nutrition and IronKids Nutrition. These needed to exist side-by-side in the same booth under the same "umbrella," but remain distinctive enough to retain their individual identity.
Also, the booth needed to be easily reused and repurposed. Element Nutrition foresaw several trade show appearances in 2016 and 2017, so they needed something that would be easy for their own people to set up, dismantle, store, and transport. Beyond that, it also needed to be transformable, and able to be used in spaces either 20'x10′ or 10'x10′ depending on the show.
Understanding the challenges of the design, we set to work creating our mock-ups. As it turned out, the design barely changed at all between the CAD rendering and the final product!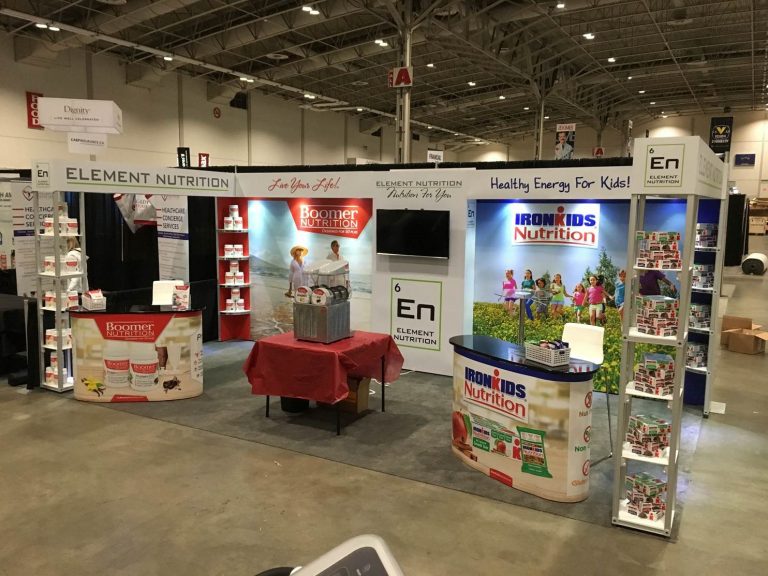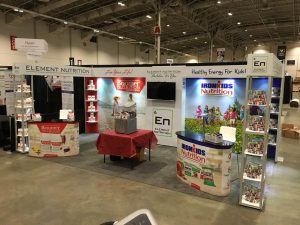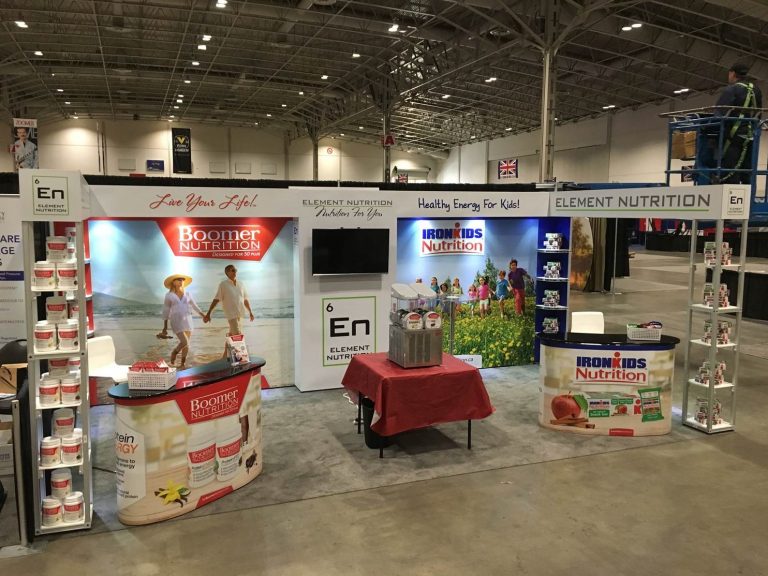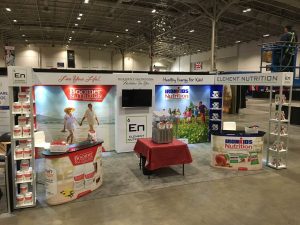 Leveraging Our Experience to Save Time and Money
One advantage we had going into the Element Nutrition design project is that we had recently built a similar booth for a client who also needed to move between different amounts of floor space. The key was the use of removable bridges on either side of the display.
Those two "arms" at the ends added more shelf space to display the product as well as creating a more enclosed feel for the booth space. However, for thinner applications, the bridges could be omitted entirely without compromising the rest of the booth. Likewise, the podiums were free-standing and could be moved around as needed.
Since we had examples and mock-ups of the previous display lying around, we were able to almost immediately show them what we had in mind. For a budget-conscious client, this was a big help – it cut down on design time by a large margin, and allowed us to go straight to the nitty-gritty of graphics and construction.
Two Sides, Two Uses, Two People
The other main challenge was giving prominence to each of their two product lines. There was no need to reinvent the wheel here – we gave them each almost half the booth, literally side-by-side, with elements in the middle highlighting the Element Nutrition parent company. Since each brand had its own color scheme and font established already, we could work directly off their existing design elements and -again- save them money on design work.
They also got some additional graphic pieces which would allow them to only highlight one brand or the other, depending on their needs.
The other major design element we added was the monitor in the center of the display. Besides being eye-catching, this allowed them to put videos promoting either brand or the parent company too.
But perhaps the best aspect of all is how simple it is to assemble and disassemble. Despite Element Nutrition initially being a bit overwhelmed when we showed them all the raw pieces of the build, in the end they only had to use two people to set it up on-site. And quickly too!
In the end, Element Nutrition said: "After much research and looking and countless websites and designs, we knew that Best Displays could represent our image exactly the way we needed (…) and be able to focus on a single brand or incorporate both brands in either sized display. This was no easy task and Best Displays were able to accommodate all of our needs."
Best Displays & Graphics: Creating Great Displays, Big or Small
Whether you're looking for the latest and greatest in trade show innovations, or you need an effective and budget-conscious display that can be reused repeatedly, Best Displays & Graphics can deliver.
Contact us today to discuss the perfect booth for your next appearance!