September 6, 2017 — Best Displays & Graphics would like to welcome one of our newest clients, Chimp Treats Nicecream!  We've just begun working with them on a series of projects for their upcoming appearances, and we couldn't be more excited about it.
Chimp Treats is certainly one of the tastiest products we've worked with recently.  It's an ice cream-style dessert, except it's made 100% from fruit – bananas, mangoes, and strawberries.  It's an innovative product (and quite yummy!), and they came to us for help boosting awareness.  They have ambitious plans for a series of both outdoor and indoor events in the months to come, potentially aimed at both customers and retailers, and needed a variety of branded accessories and booth items to support all their upcoming appearances.
Why did they choose Best Displays & Graphics?  As they said:
We met with multiple trade show companies, but knew from the moment we stepped through the doors at Best Displays that the experience with them would stand out from the rest. Not only was the quality of their products fantastic, but their customer service was far superior the other companies we had met with.
With expectations like that, we had to deliver… and we did.  First with a relatively simple outdoor setup, and with bigger and better things to come.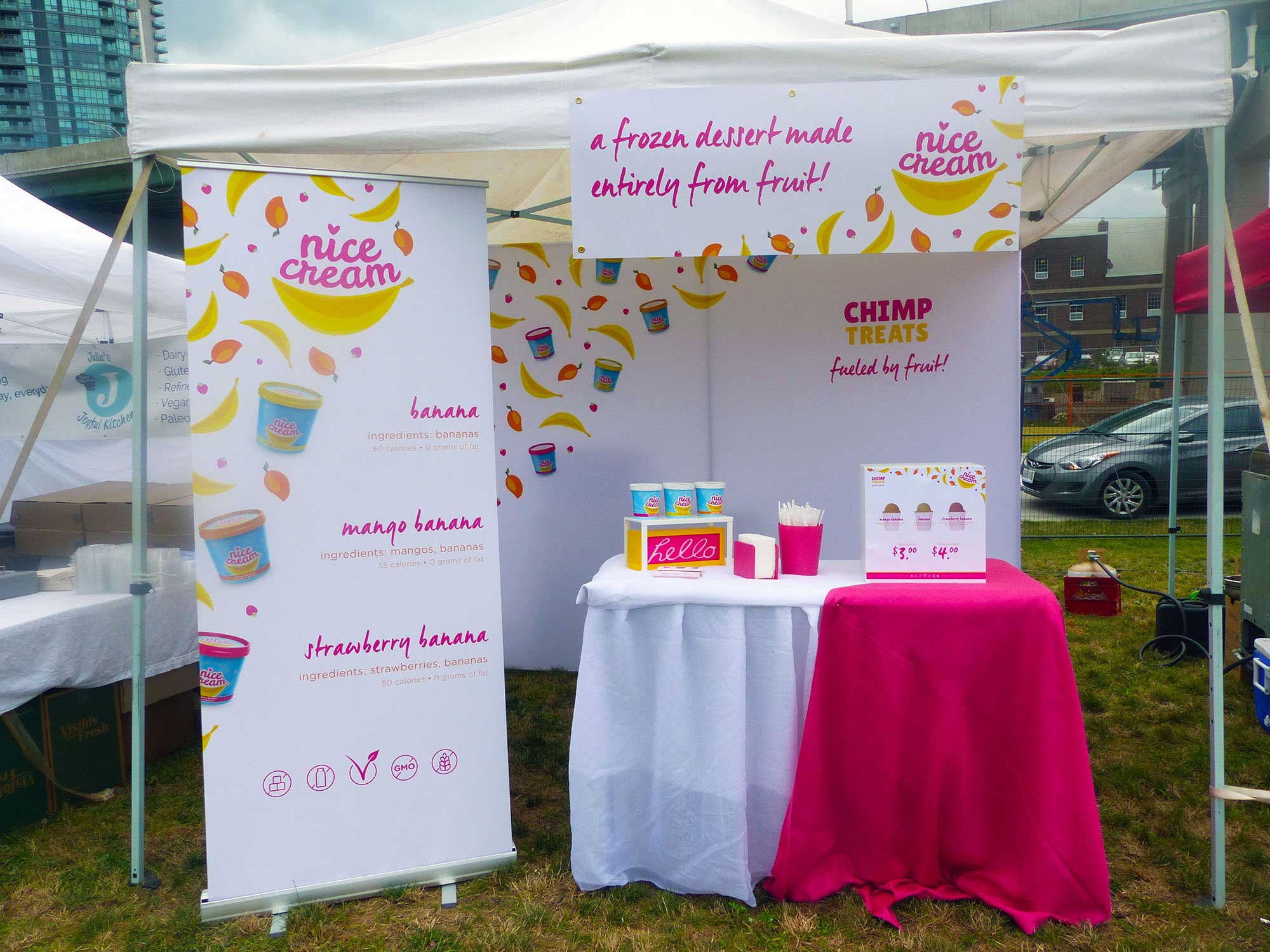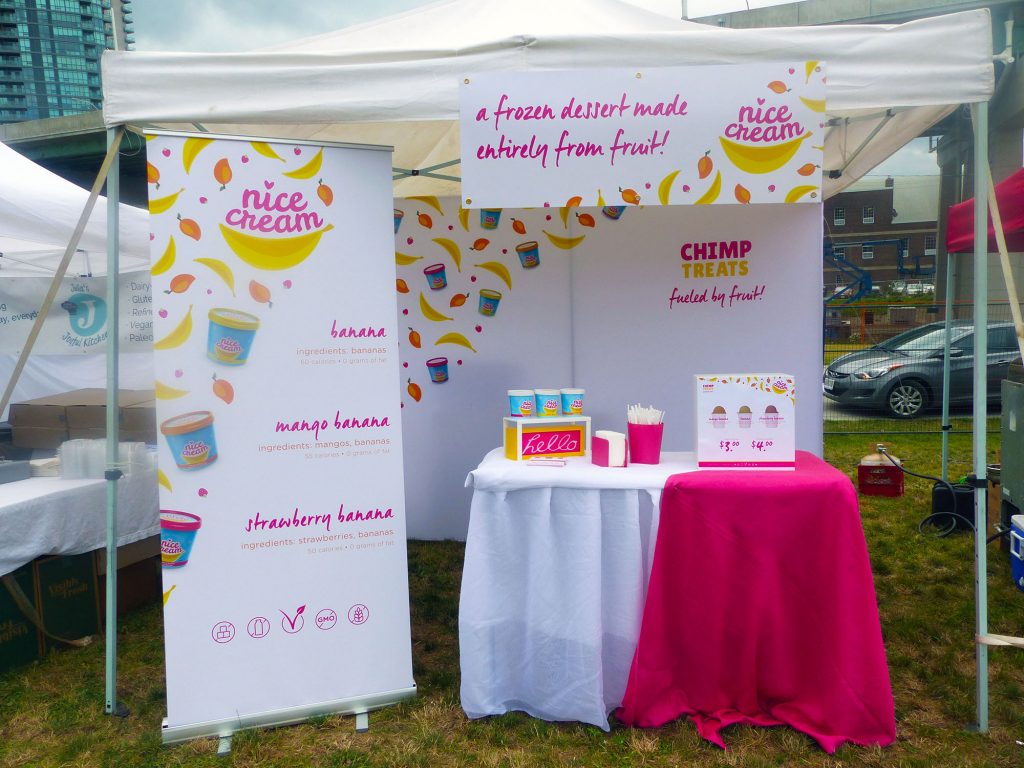 The Full Scoop on Our Chimp Treats Nicecream Display
The biggest challenge with Chimp Treats was the scope of their ambition for the months and years to come.  They're serious about getting their product in front of people and onto store shelves, which means making a lot of appearances.  It also meant that everything we made for them had to be multi-purpose enough that it could fit in at either a consumer- or retailer-aimed trade shows.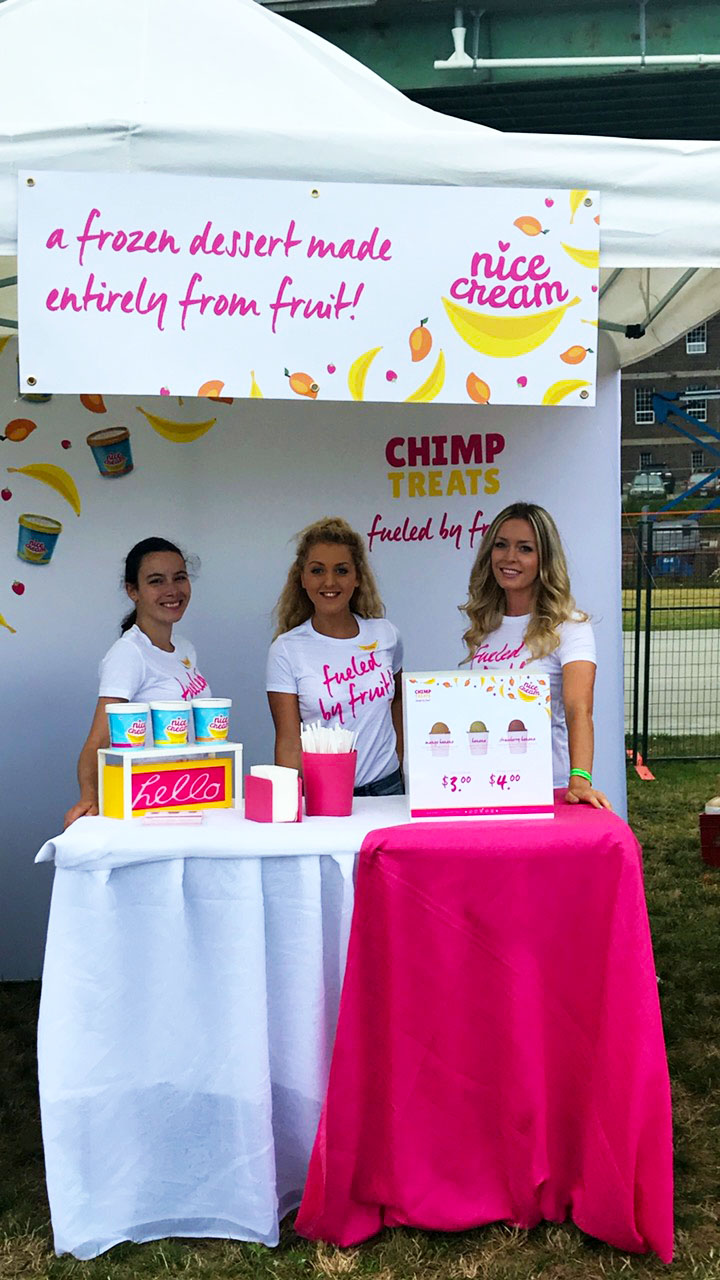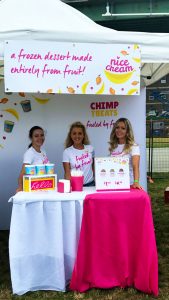 They had come partially prepared, which helped cut down on prep time.  They already had the designs for their banners, and simply utilized our expert banner-creation services.  Since these were going to be partially used for outdoor events, we made sure to use heavier vinyl that could hold up to repeated use and potentially bad weather.  Then it just took a banner stand to complete the look!
Along the same lines, we also helped them finalize the designs on, and then print out, a few other items such as a hanging sign, and a backdrop.  They all fit their look and design scheme, and can be reused in multiple roles as they move between shows.  Color-coordination was vital here, as they have a distinctive look with their white/orange/yellow/pink scheme.  That needed to be preserved and correctly reproduced on every piece.  Luckily, we've got highly reliable printers up for the challenge!
Better Things to Come
But that isn't the end of our collaboration with Chimp Treats, not by a long shot.  It was really only Phase 1!
Having demonstrated our quality craftsmanship -and our excellent customer service- we've got plans in place for bigger and better pieces to come, aimed at supporting their indoor trade shows.  Many of these are still under design, but we've got one excellent piece under production we have to show off.
We're currently building this awesome pop-up custom counter for them.  It's a perfect recreation of one of their pint products, turned into a retail counter – and with the top of the "pint" providing plenty of room for display and free samples!  It's not quite finished yet (this is just a mockup) but we'll probably have to show it off once it's complete.
Another Job Well Done
We're looking forward to a long and productive collaboration with Chimp Treats.  And the Chimp Treats team is just as happy with our work on these projects as we are.  They said:
Best Displays provided consultations, advised us on our best options and printed our banners on a tight timeline. We chose Best Displays as their customer service and attention to detail was exceptional.  Yvonne… always went out of her way to help us, even giving us her home address so we could drop off a product to ensure our deadline was met!
Whether you're an established brand, or a brand-new startup, Best Displays & Graphics can help you make a big splash at trade shows.  Contact us today to discuss our turnkey services!