If you're looking for trade show ideas or new ways to spruce up your display, it might be time to invest in some new technology. Touch-enabled devices like tablets can add plenty of new attractions to the display while taking up very little extra room – if any! In terms of functionality vs footprint, there are very few other devices that add so much while demanding so little space.
In addition, there are also ways to get your visitors interacting with their own devices. Either way, touch-based attractions at trade show displays are a great way to get people involved in your presentation!
Trade Show Ideas: Eight Great Ways to Integrate Touchscreens
1. Capturing leads/check-ins
Have at least one tablet near the front of the booth, inviting visitors to check-in and register themselves. It's a quick and easy way to capture leads without distracting your presenters.
2. Games and quizzes – with prizes!
Gamification is a terrific way to build engagement. A little custom app with quizzes, games, or raffles will get plenty of people to poke around your booth – particularly if there are prizes involved.
3. Product demonstrations
Do you have more products than you can show off at the booth, or which would be impractical to transport? Put together electronic demonstrations using standard video, 360 videos, or 3D modeling, so that people can explore them on a touchscreen.
4. Direct credit card sales
There are numerous systems today which allow for direct secure device-to-device purchasing and other monetary transfers. Rather than forcing your staff to run some sort of credit card reader, just have a tablet handle it. The easier the purchasing process, the more likely visitors are to make impulse buys.
5. Website access
Even if you aren't in a position to implement more demanding applications, merely having a tablet or two displaying your website can be a good way to put more information at visitors' fingertips. Make a custom landing page or two, which should help drive more lead registration.
6. Keynote presentation aides
Larger touch screen monitors are a great addition to any sort of keynote presentation. The presenter can use the screen to demonstrate products directly to viewers. Or, utilize screen-sharing technology to mirror a tablet or laptop's screen onto a much larger one which everyone can see. Either way, this allows you to integrate plenty of multimedia into a presentation, with just your fingertips.
7. Self-serve brochures and literature
Tablets are also a good alternative to having stacks of paper brochures. Just create PDFs of your documentation for people to peruse or download to their own devices… in exchange for some contact info, of course!
8. Social media connections
Finally, don't forget about the potential for picking up social media contacts along with their more traditional contact info. Connecting via Facebook, LinkedIn, or other popular social networks give you significant access to each lead.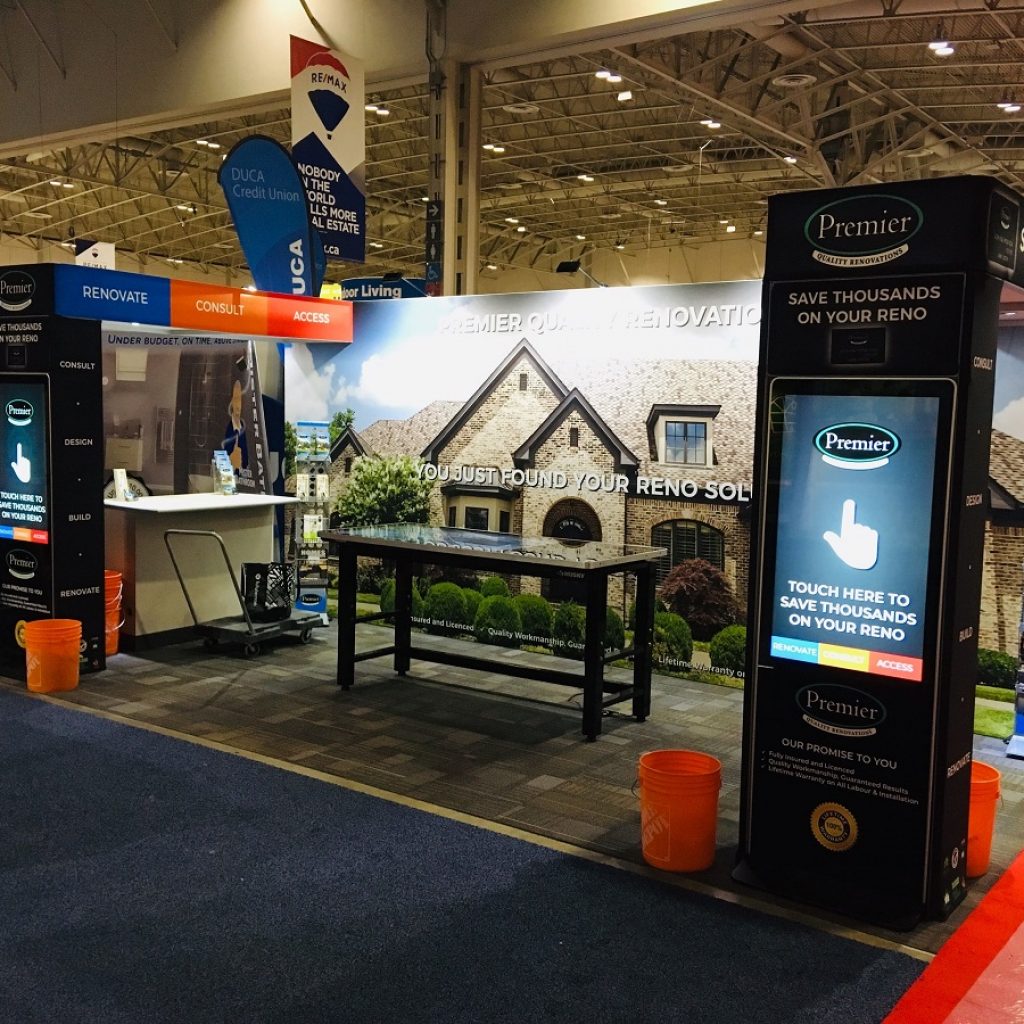 Want a trade show display with deep touchscreen integration? Best Displays & Graphics can make it happen! Contact us and ask for a complementary pre-visualization rendering of your display.