When Omniterm contacted Best Displays & Graphics to produce a display for their CinemaCon show in Las Vegas, BDG jumped at the opportunity. The two companies had worked together before and the team at Omniterm had been very pleased with the results each time. This time, the company wanted Best Displays & Graphics to upgrade a display for the one of the industry's biggest and most popular events, CinemaCon. They required display that was well branded and would showcase the company's software.
The Customer's Requirements
The team at Omniterm wanted to repurpose as much of the existing display material from their previous display as possible. They required the display to be larger in height, with curved sides for their logo, and wanted side panels to add to the appeal of the booth and its branding value.
In responding to these services, our team provided design expertise. The customer noted they were especially pleased with our ability to hone the design until they were happy with the finished product.
The Blueprint Display
The blueprint display was the perfect solution for this finished product. Ideal for scalability, the system was affective in scaling up the smaller system to fit a larger area within the venue. The team at Best Displays & Graphics can work with the blueprint display to add new accessories and functionalities to enhance value for different events. Just part of the reason that the display worked so perfectly for Omniterm.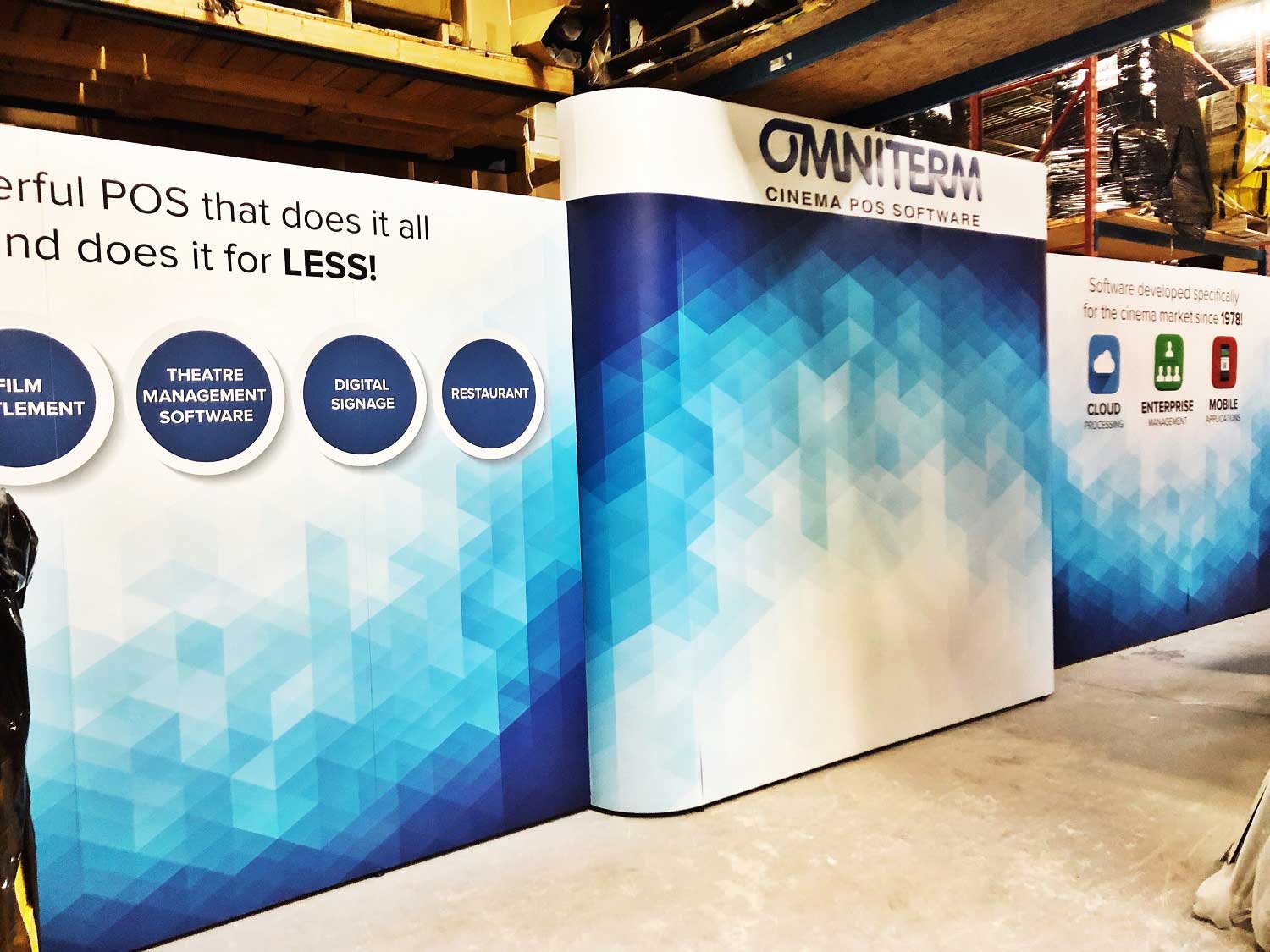 The Final Product
The finished product provided was a 30' blueprint display with vinyl graphics. Utilizing the blueprint system allowed us to complete the larger design for the client without a significant increase in pricing. The build was completed in two hours and once complete the Best Displays team created a CAD for Omniterm to facilitate the installation of the system.
Additional Details from the Customer
The entire team at Omniterm was happy with the service we provided for them, and provided the following comment regarding our work: "I picked up the booth at their office and was amazed by everyone who worked there. They warmly welcomed me, made some last minute changes, and then packed up the unit. It seemed like everyone pitched in to get me on my way as quickly as possible. They even provided a little wrapper to help me when I would pack up the booth afterwards. All in all, I couldn't ask for anything else."
The work completed for Omniterm highlights our commitment to meeting client needs with precision. We work alongside the customer to understand their challenges and then utilize our range of in-house expertise and technologies to create the ideal system. To discover more about our company and our work in the industry, call us today.