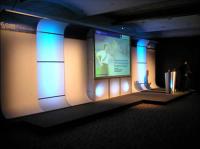 Our business has been flourishing like never before, which is why we had to expand our existing roaster of professionals to be able to fulfill all our Custom Displays Orders! With big clients such as Lego, Bell Canada, IBM, Dairy Queen, and even the Ontario Government, we had our hands full but fear not, by expanding both our facilities and our team, we are now adequately equipped to tackle any challenge. Our new hires are very eager to put their knowledge to work for North America's biggest companies and our brand-new facilities are only waiting to be used!
First of all, Best Displays had to expand its physical location by renting another 2000 sq ft of display build space to accommodate all existing Custom Displays Orders and to support the increase in future orders. We are also proud to have two new additions to our sales team. Quote requests and inquiries have been coming in at an amazing speed and we are now being much more efficient at responding to all with two new salespersons on our team. As part of our expansion, we have also hired a new graphic designer and a display builder to help with all the new Custom Displays Orders.
We are very thankful for all the new inquiries following our latest advertising stints and we hope that you will be as excited about our current expansion as we are at Best Displays!