April 10, 2014
Thinking to publicize your company's products at a trade show? Find trade shows an investment with substantial benefits. Well, you might be able to get great benefits by exhibiting your business offerings at trade shows, but it is important to get your trade show booth designed by the best graphic company.
Trade show displays are a great means to capture the visitors' attention. They can also help a business create a positive impression on potential clients. A vast variety of graphic display devices can be used at trade show booths. For instance, you can opt for tabletop displays, pop-up displays, banner stands, and several other paraphernalia. Having different sizes, costs, and applications, each graphical display attracts visitors in its own way.
Looking for Creative Graphic Solutions?
The trade show display industry has many companies that design and build trade show booths. However, not many graphic solution companies are able to create innovative, modern trade show displays for their clients. While some trade show displays companies deal in portable, modular, and hybrid displays, others focus on custom exhibit displays.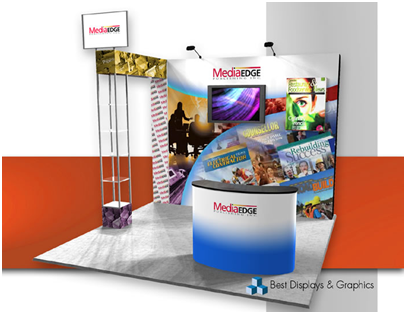 If you're looking for portable as well as custom trade show displays, consider checking out the display products of Best Displays & Graphics. Based in Markham, Ontario, Best Displays offers an extensive range of trade show display products and graphical solutions. Its proficient team can design, create, and install artistic trade show booths that can boost your sales. After all, they are designed to highlight your business offerings visually.
Don't want to go for conventional trade show banners? Best Displays & Graphics also offers custom solutions for banners, signs, and other display products. Whether you need a liner booth, island booth, split island booth, or peninsula booth, the custom solutions of Best Displays & Graphics are sure to meet your expectations, financial budget, and challenges. These trade show displays are the ultimate elements you can use to develop strong relationships with your prospects.
A Look at Offerings
Best Displays & Graphics creates varied display products to design captivating trade show booths for its clients. These displays usually include flag banners, custom displays, counters and kiosks, truss displays, tension fabric displays, tents, and more. This trade show display company installs, disassembles, repairs, stores, and transports trade show display products.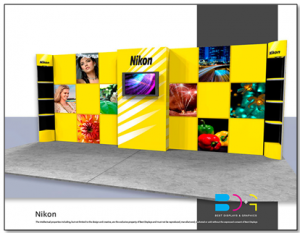 If your budget doesn't allow you to go for expensive display products, consider choosing portable display rentals. Whether you intend to attend a single or multiple trade show, these rentals enable you to publicize your products without disturbing your budget. Best Display & Graphics rents Frame, Truss, Fabframe, Blueprint, and Pop Up exhibit displays in different colors, sizes, and configurations.
Awards and Recognition
Wonder what makes Best Displays & Graphics different from other companies serving this industry? The fact that the company has recently won the Best Trade Show Booth at the Toronto Toy Fair for Ganz is a testament to its quality solutions. The Toronto Toy Fair was held in January 2014 at the International Centre in Toronto, Ontario. The booth was designed for Ganz, a renowned gift company, where it displayed its upcoming product range.
Best Displays & Graphics won Best Trade Show Booth for 25'x10' and 25'x60' displays. These displays utilized effective promotional tools to highlight the primary aspects of Ganz's offerings.
A Look at Ganz
Ganz, a company known for quality, distinctive gifts, has been dealing in collectibles and gift offerings since 1950. It maintains a huge inventory of gift items, such as huggable plush, fashion accessories, personal care products, fragrant candles, giftware, home décor products, and seasonal gifts.
The company not only maintains the highest quality standards in all its products but also makes constant improvements in its offered range. This enables Ganz to satisfy its consumers' specific needs. In January 2014, the company participated in the Toronto Toy Fair where it enabled its consumers to take a look at the upcoming products. Time & Again and Webkinz are the company's exclusive product lines.
The Bottom Line
The bottom line – if you are looking to interact with other companies or clients without spending hefty amounts, get your trade show booth designed by Best Displays & Graphics. This award-winning company can design visually appealing display products to keep you connected with trade show attendees.