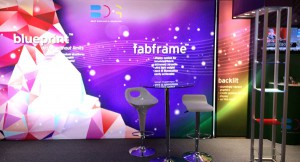 January 29th, 2015
Looking to grab the attention of tradeshow attendees? Banner lighting trends are changing and one of the newest innovations to hit tradeshows involves the use of backlit graphics. As one of the leaders in the graphics industry, Best Displays & Graphics recommends that businesses who want to make an impact at tradeshows use backlit technology because of its current popularity and versatility. Backlighting can be used with almost any display options including banner stands, backwalls, towers, and counters to name a few. 
What are Backlit Graphics?
Backlighting can enhance the attractiveness of any banner by adding bright and compelling visuals to it. In simple terms, backlighting incorporates different types of light sources behind an electronic display to increase readability while attracting passersby at tradeshows.
Best Displays & Graphics have spent many months considering which fabric, ink, and printer should be used for different backlit displays so as to ensure the final product has even light distribution for the displays and has the desired effect from what the clients are looking for.  For example, if using a white graphic it is necessary to purchase dense and tight material to prevent too much light from casting through the fabric.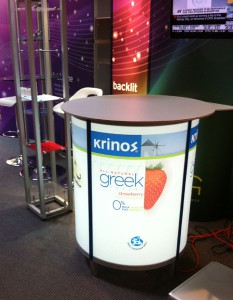 The Different Types of Backlighting Sources
When looking to add a backlit touch to a display, it is important to recognize that there are 3 distinct backlighting sources: fluorescent, Light Emitting Diode (LED), and natural light/existing store light. After natural light, flourescent lighting is the most affordable and traditionally used; however the quality of light is not as good as other source. LEDs, on the other hand, are the most environmentally friendly of the bunch. The most crucial element to picking the ideal lighting source depends on what the end customer wants the colours on their display to look like. Additionally, businesses can also choose to combine different sources to create different effects on various banner parts.
How to Choose the Right Material for Backit Banners
Once deciding to use backlighting, it is necessary to consider 6 factors: amount, location, duration, and application. Best Displays & Graphics designs displays for all types of industries and knows that each project requires different considerations. This will help decide what type of graphics should be used and, consequently, the best fabric for the graphic. From semi opaque films made from polyester, PVC, and melamine to adhesive-backed vinyl backlit film, and lightweight fabrics printed with vibrant colours, businesses have countless options available to them.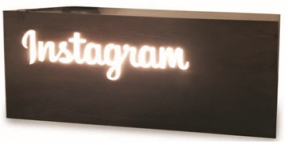 Why choose Best Displays when looking for backlighting solutions?
It is becoming increasingly more difficult to stand out at a tradeshow. Each year, tens of thousands of people attend conventions and can easily ignore displays that are not compelling or exciting enough. Technology and design innovation are two ways that customers can create catching and engaging displays. But when looking for a company to create your displays, why choose Best Displays & Graphics? It's simple, at Best Displays & Graphics, our display makers not only create the most durable and attractive end products, but are also continously attending industry shows such as Euroshop in Dusseldorf and Exhibitor Live in Las Vegas to stay up to date on display and industry trends, on site research and consultation with lighting experts to determine the best type of lighting to use to not only be visually effective but also cost effective.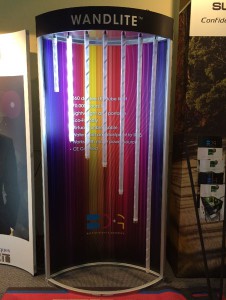 What Kind of Backlighting Technology Does Best Displays & Graphics Prefer?
After months of exploring various backlighting options, Best Displays & Graphics discovered "Wandlite" technology. Wandlite technology is ecofriendly, virtually unbreakable, waterproof/dustproof (completely protected against dust and low pressures of water from all directions) light and portable (1lb), works with a variety of power sources, is CE certified, features 360 degree LED tube lighting, and 70,000 hours of life. In addition it also includes different sizes of lights to accommodate any display needs.
Hot Trends from Euroshop 2014
Every 3 years Euroshop hosts a convention to introduce individuals to hot trends in the display industry. In 2014, Yvonne and Geoff from Best Displays & Graphics attended Euroshop to learn more about lighting trends and were introduced to backlighting. Other trends from this years' Euroshop include
Technology (interactive screens, robotics, 3-D projections)
Faux-to-real sensibility (for example, combining technology with nature)
Social spaces (spaces within spaces)
High-tech vs high-touch (themes of natural and spiritual imagery)
…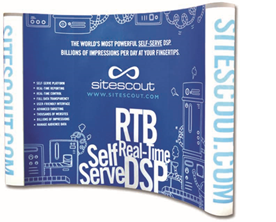 Backlighting tech is versatile and can be integrated into a variety of display solutions from pop up displays to custom fabric/vinyl displays, as well as counters and banner stands. Best Displays & Graphics' lighting technology can easily modify existing displays to accommodate backlighting and is also very easy to assemble, simply hand the light on a provided hook, bar, or clamp.
To find out more about Best Displays & Graphics' services and products visit their website at http://www.bestdisplay.com/. If you would like to learn more about their backlighting services in particular, visit their showroom to see all of the backlighting options that they currently have available.