November 7, 2014
Bill Gates has previously said that "The first rule of any technology used in a business is that automation applied to an efficient operation will magnify the efficiency. The second is that automation applied to an inefficient operation will magnify the inefficiency." By bearing witness to the rapid advancements of technology in modern society many of us can agree that there is much truth to be found in this statement.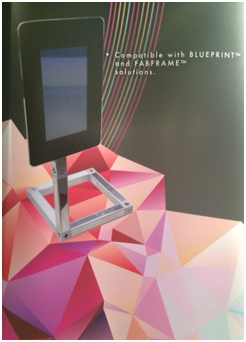 Take for example the iPad. On its most basic level, it can be argued that the iPad was first created thousands of years ago when men first began to adorn the walls of their caves with images of daily life. Since then, art has continued to grow in popularity until the first motion-picture cameras were invented in the 1890s and the once completely static pictures suddenly began to move. Today, iPads (or a variation of the same type of product) can be found in an overwhelming number of households.
This is why Best Displays and Graphics are introducing North American trade show exhibitors to a revolutionary brand-new product: Lumiline's video banner stand with the monitor.
Why is the Lumiline Video Banner Stand with Monitor so Unique?
Unlike any other retractable banner stand of its time, the Lumiline video banner comes with a monitor that allows companies to display their own unique messages with video and slide show technology. This creates an enhanced automatic viewing experience for passersby and increases the efficiency of basic trade show banners by enticing curious individuals to visit the booth and learn more about the company's products and services.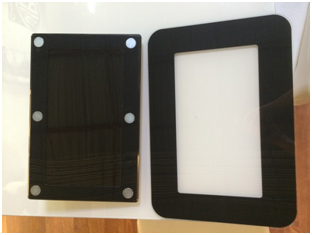 The Lumiline monitor is featured on a 33" w by 86" h high-quality non-curl vinyl banner stand that businesses can customize based on the product or service they are selling. Graphics are printed on a 5 ml display back with 1 ml pressure laminate that ensures a saturated print and a flat graphic. The retractable banner stand is very light and easy to assemble, making for quick setups and exits. The monitor itself is a 15" TV Monitor that easily adheres to the banner stand with magnets which is also compatible with Custom Displays & Graphic's Fabframe and Blueprint systems.
About the Fabframe & Blueprint Systems
The Fabframe modular display system, available from Best Displays & Graphics, allows exhibitors to build an affordable, lightweight, durable, excellent quality, 3-dimensional fabric display system. The Fabframe is ideal for covering large lightboxes with tension fabric and creating not only structures but interesting environments for tradeshow attendees to explore.
The Blueprint is a versatile display system like no other. In addition to being simple to construct, versatile, and incredibly strong, the Blueprint can create curves, towers, counters, and even floors and stages that are perfect for any event. The possibilities of the Blueprint systems are only limited to your imagination, so customize the cover of the framework with graphics, lights, or whatever you need to make a big impact at your next tradeshow.
Thanks to our new video integration capabilities, both of these systems are capable of using monitor mounts that create the illusion of floating screens. It is now possible for all of our display products, including the Fabframe and the Blueprint, to accommodate video features.
Where Did Best Displays& Graphics Discover the Lumiline Video Banner Stand?
Earlier in February of this year Geoff Martin, one of the owners at Best Displays & Graphics, and his wife, Yvonne, attended EuroShop 2014 in Dusseldorf, Germany where they spotted the Lumiline video banner stand with monitor for the very first time. Each year, thousands of people attend the EuroShop trade show to learn all there is to know about the trade show display industry and the up-and-coming trends. This year, the big trend that we noticed was videos being integrated into displays. At Best Displays & Graphics, we already integrate monitors into our custom and pop-up displays, and now we have video capabilities for our banner stands.
…
At Best Displays & Graphics we are committed to providing customers with new innovative technology to help them make a statement at tradeshows. This is why we are taking the initiative to release more new products in 2015 than ever before. To learn more about our full line of products and to ensure that you do not miss out on any new product notifications, visit our blog at //www.bestdisplays.com/blog.php/ and subscribe to our RSS Feed.
To learn more about Best Displays & Graphics' full line of products and services you can contact them by email at sales@bestdisplays.com, over the phone at 905 940 2378, or directly at their Markham office and showroom address:
Best Displays & Graphics
7676 Woodbine Avenue
#10 Markham, Ontario
L3R 2N2