January 13th, 2015
Over our many decades within the tradeshow marketplace, Best Displays & Graphics has become synonymous with cutting-edge tools and leading-class services. As a specialist within the field, we've developed a comprehensive understanding of the effective implementation of the latest display systems. And that's why many now consider Best Displays the Toronto experts when selecting their truss display products. Here are a few benefits gained by selecting truss displays from our company catalog.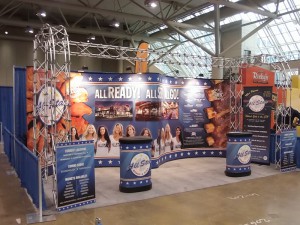 1. Experience in both Design and Maintenance
One of the leading benefits Best Displays offers our customers is that we have experience within a range of industry areas. Our Toronto experts' truss display design work empowers companies to make lasting impressions within their trade shows and ensures that displays are built for both performance and style. In addition, because the company has comprehensive maintenance experience, we can quickly resolve truss display repair needs with days to spare before important business events.
2. Service Experience
As specialists in their craft, the Best Displays & Graphics team knows what it takes to create a compelling display. They can help answer business owners' questions about the latest systems and ensure that each element is optimized for event success.
3. Rental and Purchase Options
Best Displays works with many different companies across the trade show field and we've built a varied product catalog to help respond to broad-ranging requirements. One example is the company's rental options, which provide growing companies the ability to rent their truss displays at a fraction of the purchase cost for one-off event requirements.
Through responsive services and a commitment to event success, Best Displays continues to be the specialist of note for all truss display requirements. Speak with one of our team leaders today to learn more about our company and its product selection.