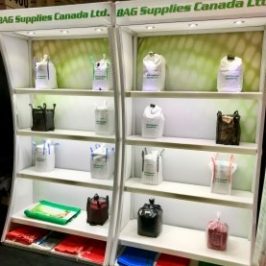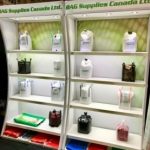 Thursday Feb 1st  – When we talk about trade show displays, whether on site or during consultations with our customers, one thing we like to emphasize is reusability.  Trade show materials can be an expensive investment, so planning ahead on the displays purpose and use can be an excellent way of maximizing your ROI.  In some cases, well-built trade show display pieces can bring you years of value.
This is exactly what the representatives from BAG Supplies Canada Ltd were thinking about when they approached us to buy pieces for their upcoming trade show appearances.  This family-owned packaging materials company wanted unique, custom-built display shelves that would have plenty of reuse potential.
A creative endeavor we were happy to deliver!
Crafting Distinctive Shelving for BAG Supplies Canada Ltd

BAG Supplies Canada Ltd was a first-time client for us, and they'd spent their time shopping around.  They'd looked at multiple websites, and contacted other companies' representatives, but were immediately impressed with BDG!  As their rep put it:
 We had looked around but the moment I first spoke with Best Displays (Laurie) she immediately knew what I was looking for. Laurie totally understood me in every detail. Design, graphics etc. etc. she knew it from the first moment.  …  I had the idea of what I wanted and you were able to deliver and understand.
After all, they were looking for more than your standard shelving units! They had a very unique and eye-catching design in mind that would require custom-crafting. With Laurie's extensive problem solving skills and the support from our amazing production team, we were up for the challenge.
The shelves needed curved sidewall panels, as well as shelves made of bent acrylic that would be able to support some weight.  These were placed over Blueprint aluminum frames, with fabric graphics. For a display like this, stretched fabric is almost indistinguishable from thicker materials for visitors, while keeping the weight (and price) low.  Plus, with our heavy-duty high-res printers, the artwork could be every bit as bright and vibrant as if we were painting directly onto wood or other solid materials.
Ultimately, the project took approximately two weeks to put together, and each completed shelving unit could be collapsed into a single 4′ box for easy transportation.
Thinking Ahead to The Future
We were impressed by the level of forethought BAG Supplies Canada Ltd had put into their order, and it's worth noting how much usage they'll achieve from these shelves.  First and foremost, they're easy to transport and easy to set up. So easy in fact, that the client handled their initial setup themselves!  That'll guarantee low costs in the future.
They had also been thinking about more than just trade shows.  We were specifically asked to keep the height under 8′ so that they could fit into showrooms and into their offices as well.  Of course, this meant we had to keep our build quality high to ensure continuous use for years to come!
We also added a nice amount of internal lighting, since lighting is one of our "secret sauces" here at Best Displays.  The displayed materials will stand out in almost any lighting environment, from an outdoor exhibition to an internal showroom.
Going Above and Beyond
We thought we had finished with the project once we handed off the shipping boxes of finished shelves, but on the day of their first show – over at Toronto's Congress Centre – we got a phone call.  The Bag Supplies Canada Ltd team found themselves in sudden need of some last minute additional parts. Fortunately, since we're located just outside Toronto, we were able to run the parts over to them with plenty of time to spare.
Not always an option when working with companies across North America, but it's nice to help out when our pieces are being used locally.
All in all, it was another successful project and another satisfied customer.  We have a feeling we'll be hearing from BAG Spplies Canada Ltd in the future.  Until then, if you need high-quality trade show pieces with a maximum of reuse potential, contact Best Displays & Graphics for a full consultation on your project.