July 21, 2015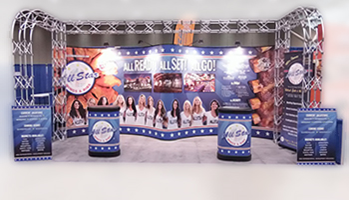 The reason that people attend conferences is generally because they are looking to learn about the recent trends to hit their respective industries. Because we are currently living in the information era, there are always new tradeshow trends and products that come from every industry, even the trade show industry.
At Best Display & Graphics, we are constantly attending conferences and learning about everything there is to know about the trade show industry. In doing so, we are able to help each and every one of our customers ensure that their conference goes off without a hitch.
2015 Trade Show Trends
In 2015, Best Display & Graphics noticed the following trends:
More Booths Now Have Phone Charging Stations
Now that pretty much everybody in North America has a cell phone, more and more people are using the internet on their phones. That is why many display designing companies like Best Display & Graphics have increased the accessibility to phone charging stations by incorporating them into their displays.
Video Tablets Are Incorporated Into More & More Displays
Because video tablets are so affordable, many companies are now integrating video tablets into their displays. This allows for a more interactive environment, which encourages more passersby to stop at their booths.
Backlit Fabric Graphics are illuminated with LED Lighting
Everybody knows that one of the easiest ways to grab someone's attention is to shine a light on whatever you are trying to advertise, which is why main theatre performers and soloists always have the spotlight on them. At Best Display & Graphics, many of our customers choose to have backlit fabrics for that very same reason.
Contests, Prizes, & Giveaways Are Used to Increase Booth Attendance
Even if everything at your trade show goes smoothly, it is still pretty difficult to attract the attention of customers passing by, especially because there are so many other competing booths all around you. Contests, prizes, and giveaways encourage potential customers to visit your booth.
Touch Screen Technology Is Being Incorporated Into Displays
Although many companies use video tablets, they are sometimes too small, which is why touch screen technology is now being used to write notes, brainstorm, and engage your customers.
Mixed Material Media Is Being Used By Designers
Aesthetics have always been an important part of conference displays; the best-looking displays often attract more customers. For this reason, more and more designers are using mixed media to enhance the look of booths. Various textures, colors, paints, and fabrics create unique-looking displays that stand apart from the rest.
…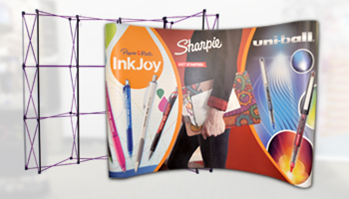 At Best Displays & Graphics, we take care of all your trade show needs to make sure you don't have to. We specialize in designing all kinds of graphics for booths and displays and have many products that our customers are welcome to choose from including pop-up displays, banner stands, flag banners, literature racks, flooring, kiosks, tablecloths, and drug identification kits. We can also help you with construction, installing, dismantling, furniture rental, internet, booth repair, storage, shipping, and more.
Contact the professionals at Best Displays & Graphics today to see for yourself why companies continue to come back to use our trade show services time and time again. If you would like to learn more about how Best Displays & Graphics can help you properly plan your next tradeshow, contact us today by email at sales@bestdisplays.com or over the phone at 905 940 2378 or directly at our Markham office and showroom address. Information about all of Best Displays & Graphics' products and services can be accessed by visiting our website at https://www.bestdisplays.com/. Read our blog or view our gallery to see some of the interesting projects that we have completed in the past. In order to stay on track, download our complete checklist today.