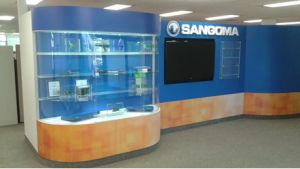 March 1, 2016 – When people hear about our company, they are usually interested in our ability to design and create beautiful designs for trade shows and conferences – but our company is not a one-trick pony; there are many uses for our displays. Take for example one of our clients: Sangoma Technologies, a leading IP hardware and software provider, based out of Markham Ontario. For this project, our team was commissioned to build a fully custom display for the Sangoma office.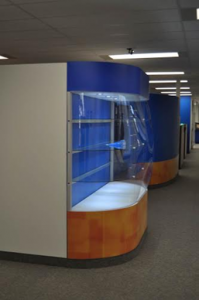 The Process
The challenge of this project was finding a way to enhance an existing display. The old display has an existing blue wall that curved to the right. To create a design that fulfilled Sangoma's need of incorporating a design that that made it look like it was built for the display and not just trying to fit something in, the Best Display & Graphics' team began brainstorming ideas.
In the end, the Best Displays & Graphics' team decided to create a custom curved display for seamless integration into the previously-curved wall on the other side. Sangoma representatives also requested that our display wasn't created with any bars that would impede the view into the showcase. This was a challenge as the original shelves were custom cut and were 22 inches deep by 5 inches long. To overcome this problem, our display creators used wire with clips on the front to create the look of clean lines, while still being strong enough to still hold the shelves with the product.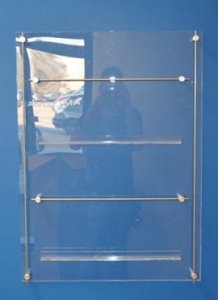 What's more is that we also incorporated bold graphics along the bottom of the display that continued along the existing wall to tie it all together and this gave the wall some "pop." To add a little more uniqueness to their display, our team also added a custom literature rack that was not only incredibly creative, but very functional. In the end, we finished the project by securing 3D acrylic letters to the wall that now give impact when customers enter the space.
By the end of the project, we had met all of the specific needs of Sangoma, leaving us with another happy and satisfied client for life. One of the beautiful things about displays is that they can last you a very long time – or until you need to update them. Because this is an office display, it is unlikely that Sangoma will be looking to replace it in the near future, but companies who require trade show displays will sometimes find that they need to constantly update their graphics to include new, promotional information. However, certain companies may find that they don't need to update their displays and can continues to use the same one(s) for many years on end. Whether your company is looking for a long lasting display or one that can easily be improved for many conferences, our creative team at Best Displays & Graphics will help you create whatever you need. Not only is every one of our staff, friendly, efficient, and dedicated to imaging your vision, but we also have many storage and transportation services that are available. These are only some of the few reasons that so many of our satisfied customers have come back for more.
…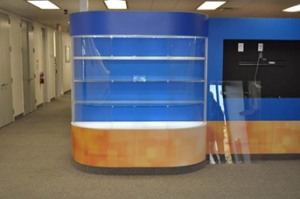 At Best Displays & Graphics, we take care of all your trade show needs to make sure you don't have to. We specialize in designing all kinds of graphics for booths and displays and have many products that our customers are welcome to choose from including pop-up displays, banner stands, flag banners, literature racks, flooring, kiosks, table cloths, and drug identification kits. We can also help you with construction, installing, dismantling, furniture rental, internet, booth repair, storage, shipping, and more.
Contact the professionals at Best Displays & Graphics today to see for yourself why companies continue to come back to use us for our trade show services time and time again. If you would like to learn more about how Best Displays & Graphics can help you properly plan your next trade show, contact us today by email at sales@bestdisplays.com or over the phone at 905 940 2378 or directly at our Markham office and showroom address. Information about all of Best Displays & Graphics' products and services can be accessed by visiting our website at https://www.bestdisplays.com/. Read our blog or view our gallery to see some of the interesting projects that we have completed in the past.