November 26, 2014
Guests visiting tradeshows across the local region are looking to establish a business relationship with vendors. To reach out to guests, it's imperative that vendors help guests become comfortable within the trade show environment. And furniture can be a critical element in this process. In this blog, we'll highlight the benefits of renting furniture when choosing the services of banner stand suppliers in Toronto.
Chairs and Tables Help Create Ideal Meeting Space
Who says the trade show space has to be focused on product advertising? Vendors can make their trade shows in Toronto the ideal meeting spot by working with banner stand suppliers to rent quality furniture products. By designing a meeting area with comfortable chairs and sturdy tables, businesses can create a space in which to generate leads and drive brand recognition.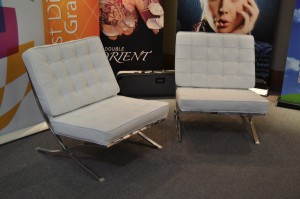 Renting from Banner Stand Suppliers Ensures a Dedicated Solution
Banner stand suppliers such as Best Displays have the experience to help clientele find the ideal furniture system for their unique display requirements. While the trade show management company might also offer products, dedicated product specialists can provide distinct systems that service specific application advantages. For example, Best Displays can offer expertly designed literature racks and table cloths that help accent a table-top display.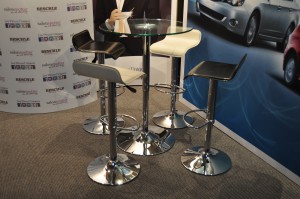 By choosing carefully among the leading banner stand suppliers in Toronto, trade show vendors can ensure the ideal furniture products are available for their next event. Speak with a Best Displays expert today to learn more on the industry products available.