January 19, 2016 – These days, many companies are too focused on making a profit that people often come second. We want to assure you that at Best Displays & Graphics, this is in no way the case. Our customer-centric approach puts your business first. This means, that we listen to your businesses' specific needs and never compromise the truth.
Nestled in the heart of the Great White North, Best Display & Graphics takes pride in being an all-Canadian company based out of Toronto. Our team only works with Canadian businesses and suppliers to not only support the Canadian economy but also to provide the best possible services to our fellow Canucks.
At Best Display & Graphics, we have different departments that work together to help you create the perfect experience come the big day of your trade show. These include our creative department (which works on the graphics aspect), our installation team (who can help you set up and dismantle your display), and our consulting team (who will help you every step of the way). While each department works separately to complete a task, they always discuss the client's needs amongst themselves to ensure that they are working towards the same goal. We also have turnkey solutions that include anything from furniture, carpet, and display rental to internet services and even trade show booth leasing opportunities.
At Best Display & Graphics, we have been in business for over 30 years and we have learned a lot of tricks of the trade since we first started. Unlike other companies of the same nature that haven't been in business for as long, we know that the secret to successfully exhibiting at a trade show involves, preparation, preparation, and more preparation.
We believe you can never be too prepared, that is why we always talk to our customers about what they want before creating a plan of attack. Our staff will always be on hand every step of the way to make sure your trade show is a success, from the pre-planning to the post-planning period (and even during the actual trade show itself). Planning in advance will ensure that your trade show goes off without a hitch, but that doesn't mean that nothing will go wrong come the big day. That is why we also have staff that will help you should any minor disaster occur.
So come into our trade show gallery location, located in Markham ON (just on the outskirts of Toronto) and we'll be happy to introduce you to our entire team!
Meet the Team: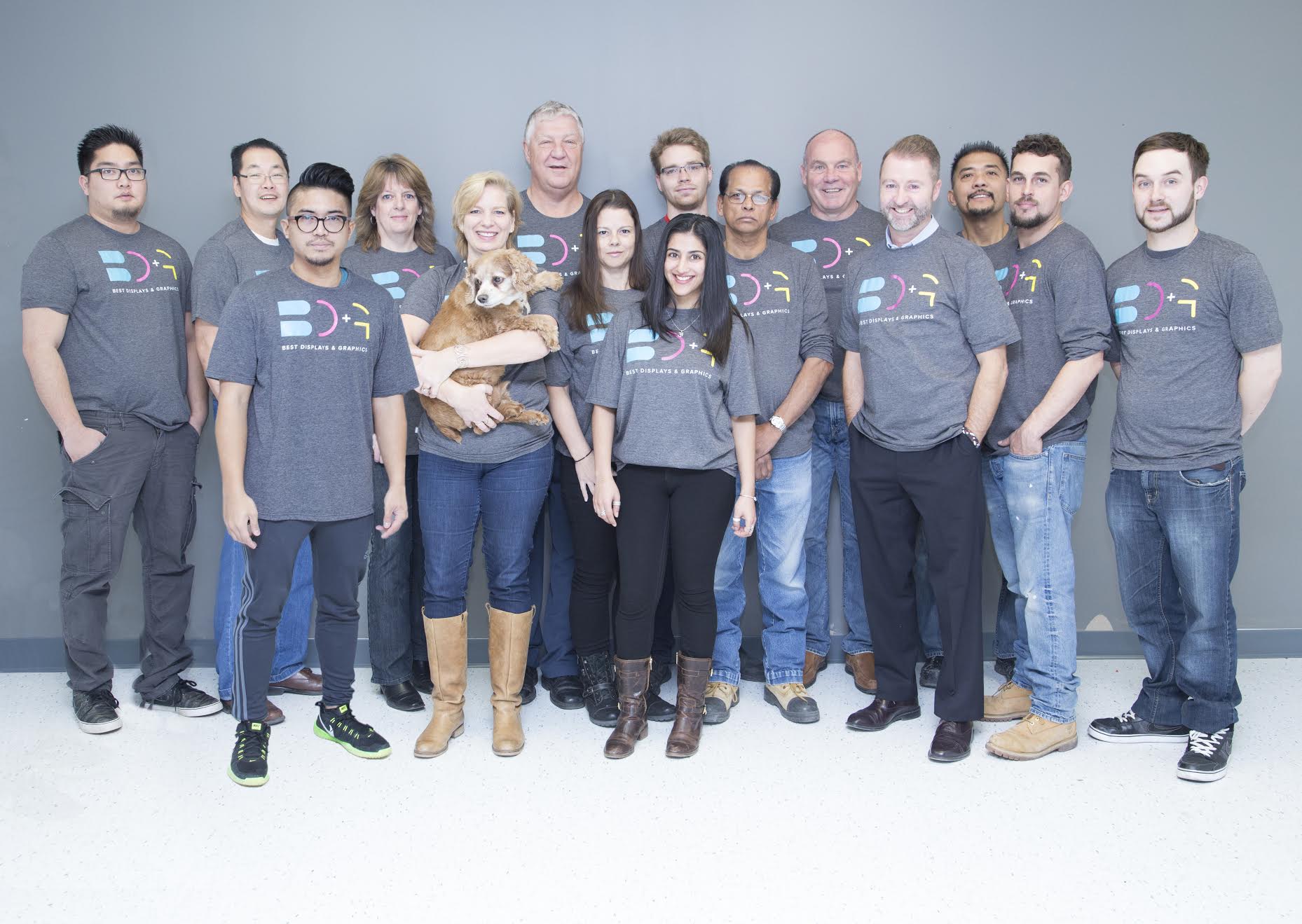 Geoff & Reid – The BDG team leaders, founders of the company, and our go-to trade show display experts.
Yvonne, Magali, Drew & Laurie – Our seasoned trade show display consultants, who can help you with display suggestions, logistics, creative concepts, and more.
Alvin – the BDG AutoCad rendering pro
Sherie – the BDG accounting expert
Robin – the BDG in-house graphic designer turns your vision into reality through 3D booth renderings or graphic design concepts
Matt, Mike & Kevin – our graphic team who work to print your high-quality vinyl and fabric graphics and install them on your displays
Nupur – our receptionist and admin assistant
Ram – our display build and installation manager. Ram turns Robin and Alvin's designs into a trade show display that is functional, efficient, and structurally sound
Shawn, Ephran & Jacob – the three main installation team members, who also help to build and repair trade show displays.
Watch our video today to learn more about all of our different team members and to see how we produce everything in-house to maintain quality control and commitment deadlines.
…
At Best Displays & Graphics, we take care of all your trade show needs to make sure you don't have to. We specialize in designing all kinds of graphics for booths and displays and have many products that our customers are welcome to choose from including pop-up displays, banner stands, flag banners, literature racks, flooring, kiosks, tablecloths, and drug identification kits. We can also help you with construction, installing, dismantling, furniture rental, internet, booth repair, storage, shipping, and more.
Contact the professionals at Best Displays & Graphics today to see for yourself why companies continue to come back to use us for our trade show services time and time again. If you would like to learn more about how Best Displays & Graphics can help you properly plan your next trade show, contact us today by email at sales@bestdisplays.com or over the phone at 905 940 2378 or directly at our Markham office and showroom address. Information about all of Best Displays & Graphics' products and services can be accessed by visiting our website at https://www.bestdisplays.com/. Read our blog or view our gallery to see some of the interesting projects that we have completed in the past.