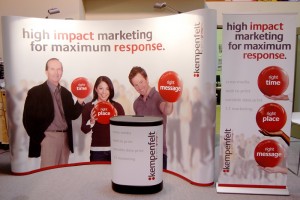 August 4, 2016 – Each element of your trade show display should be optimized to ensure the highest return on your display investment. This means space within the venue should be maximized and used to its fullest brand marketing potential. In this post, our experts offer their quick guide to maximizing space at trade show booths.
Implement Effective Lighting
Without quality lighting, your displays will fail to make a lasting impression. You can place the spotlight on your brand by using the latest lighting systems to bring attention to areas such as stages and display offers.
Limit Number of Signs
The number of signs you use should be limited to minimize the potential distractions for attendees. Integrate simple design and use a few high quality displays to ensure you engage buyers at tradeshow events. Signs should be used to promote products and should each have a distinct sales objective within the event marketing campaign.
Use a Podium with a Small Footprint
One mistake marketers make when promoting their brands at trade shows is to use a larger podium for their presentations. This can limit the amount of space for your display and for potential meeting areas. Try to use the podium with the smallest footprint and then integrate the podium within the overall display design.
Consider Indoor Flags to Add Display Height
Most event marketers don't consider the advantage given to them by having a tall display. Use event flags within the display area to promote brand messaging and gain visibility across the trade show floor.
The team here at Best Displays & Graphics has many years' experience helping brands capitalize on their event spaces. To discover more on your available options, call us today at 905-940-2378.