April 16, 2015
The trade show environment is often very busy. It can be difficult for even the largest of brands to rise above the noise and engage event attendees with their trade show booth designs. But effective promotions can be achieved by those companies that understand the key concepts behind professional and response-driven design work. Within this blog, our expert designers provide a quick guide to crafting engaging trade show booth designs.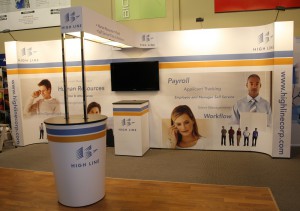 Choose Brand Colours to Drive Campaigns
Companies should choose the same colours as they utilize within their existing marketing campaigns to drive greater integration with their trade show processes.
Use Effective Call to Actions
Booth designs should be created to compel the viewer to act on the information displayed. This means companies must utilize strong call to actions to maximize the return on investment. Within the call to action, urgency should be used to instill interest. For example "Call Today to Claim Your Free Quote".
Show Statistics
Strong trade show displays make a point with simple statistics. These statistics help make the brand's point for them without over use of text. One simple stat could become central to an effective trade show campaign.
Don't Overuse Photos
While it's important for audience members to be focused on the company branding information and contact details, it's still important for photos to be included, as it draws attention more than text does.  However, photos can be distracting when part of trade show displays as photos should be large eye catching images rather than multiple smaller images. And so designers should keep photos to a minimum when creating displays.
By understanding the important elements of professional trade show booth designs, companies can maximize their return on investment within trade show campaigns. To learn more, speak with one of our expert design team members today.