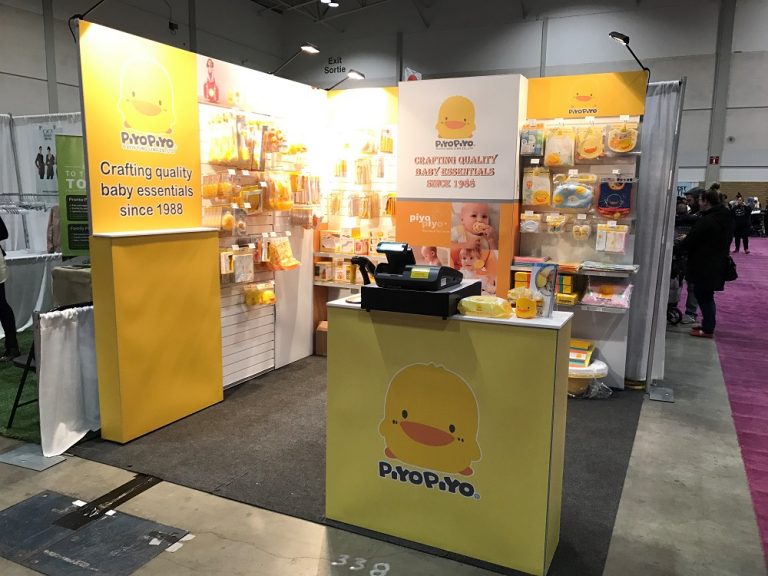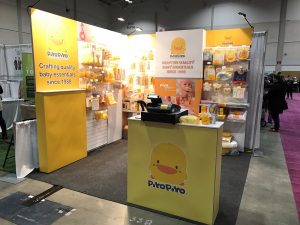 May 12, 2017 – At Best Displays & Graphics, we've worked with major international brands… but we're just as happy to work with smaller brands as well. We're glad to get a chance to help newcomers put their best foot forward from the start, and that's exactly what happened when we were given the opportunity to work with Xinbeir Inc. to help promote their lines of imported baby products.
Xinbeir Inc. is a recently-formed group dedicated to importing some of the most popular baby toys and food training product lines from Taiwan, and needed to announce themselves in a big way at a recent baby gift show here in Toronto. They planned to use the booth multiple times at shows throughout the year.
When dealing with a new startup, budget is obviously going to be a major factor. But thanks to our extensive product stock and experience in dealing with tight-budget requests, it was no problem coming up with a design and build which the client loved!
How Blueprint Displays Made the Xinbeir Baby Display Possible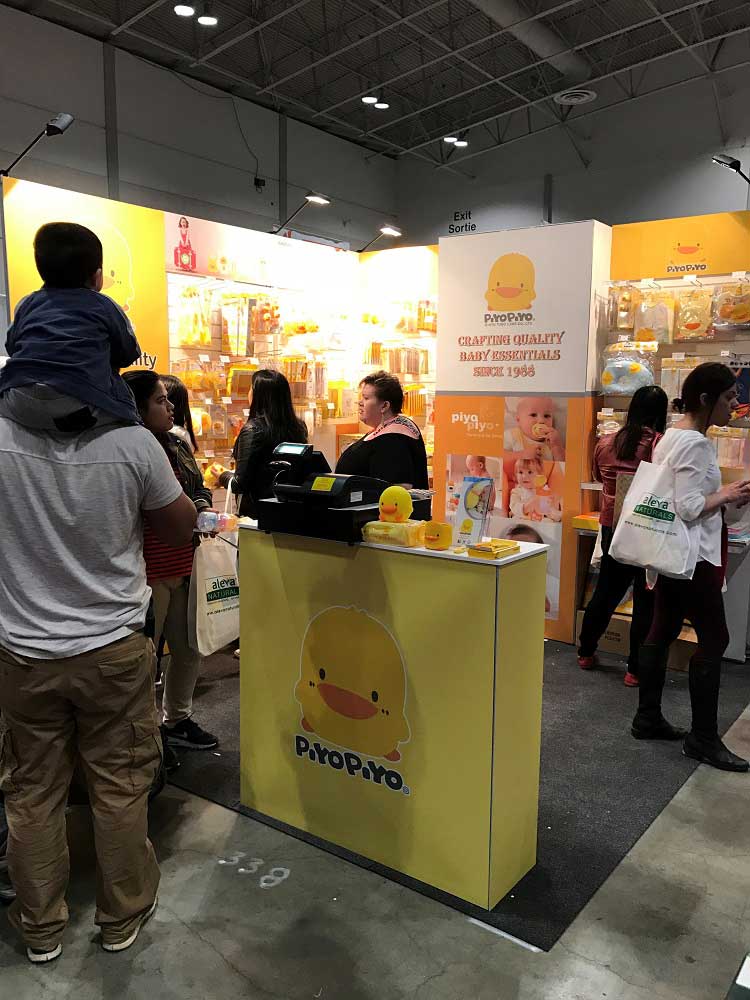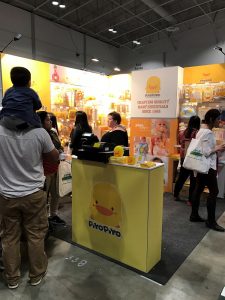 For Xinbeir, we went with a Blueprint Display set, which is one of our go-to products when a customer needs something easy on a small budget. Blueprint Displays are kit-based, portable, and extremely modular. Everything builds off a set of aluminum framework pieces with standardized connectors, making it simple to construct a great display with remarkably little work.
In fact, this entire display was built by a single person!
Blueprint Displays are also great for holding up custom vinyl graphics, which enhance their versatility.  Being able to turn one or more walls into giant graphics keeps them looking fresh, while hiding most of the framework. They also can easily support electronics, lighting, even full-size video monitors. There are few better options for creating nice-looking displays quickly and easily.  
For Xinbeir's display, another challenge we faced was that they wanted plenty of room to show off their product stock, using either shelves or hooks depending on the product. That meant using a slat wall, so it could have that flexibility in product display. Luckily, Blueprint could easily be adapted to connect to a slat wall as well, giving us a perfect solution for them. Even with shelves and product to put in place, the booth could be set up in less than a day.
On top of that, we knew that they wanted to use the booth at several shows in the upcoming year, with varying amounts of space available at each. So, we designed the booth to be re-configurable. The back wall could work entirely by itself, with a few pieces of furniture in front, or the side wall could be attached on either side. We also provided several pieces of custom vinyl graphic work, so they could change out the graphics from show to show for variety.
In the end, it was everything Xinbeir wanted.
Why Xinbeir Chose Us, And What They Thought Afterward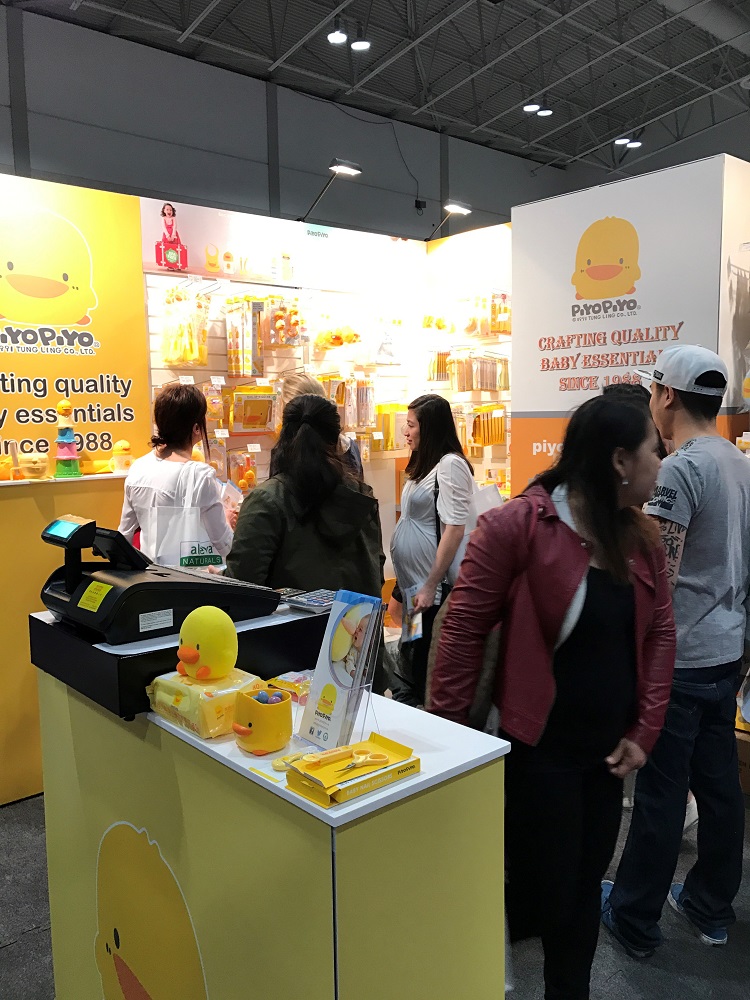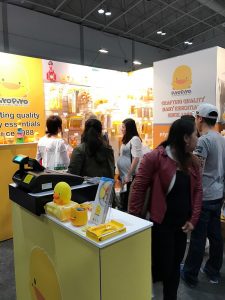 Every custom job we do with frame-based kits like Blueprint is unique. Despite using standardized parts, we always build the booth to fit the client's needs rather than using pre-fab structures. This keeps us from being locked into specific sizes or shapes. We can work directly with the client to turn their concepts or drawings into a reality.
Our contact at Xinbeir was suitably impressed by both our demo mockup and the final product. They had heard about us from other work we'd done, and knew our reputation for being able to create great-looking displays on a tight budget. Or as Xinbeir put it: "We chose Best Displays over another supplier because they custom made our ideal booth that perfectly fit our needs, at a reasonable price."
That's what we love to hear, here at Best Displays & Graphics. We love taking on challenges, whether they're challenges in terms of size and scale, or finding ways to make the most of a limited budget. In the case of Xinbeir, we were able to put together an excellent booth which they'll be able to use repeatedly in shows throughout the year. The whole thing even packs down to two cases!
No matter your size or budget, if you have a trade show upcoming, Best Displays & Graphics can ensure it goes off without a hitch. From basic designs to turnkey all-in-one services, we're here to make your live appearances shine.
Contact Best Displays & Graphics today to consult on your next project!