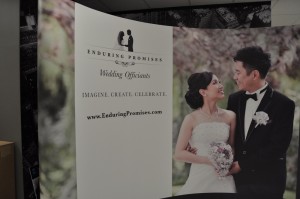 January 12, 2016 – Vinyl pop up systems can be a cost effective tool for brand promotion at business events. But for small business owners, it's important to know where to find the best products and how to implement the products effectively on event day. That's why we've decided to offer this quick guide, with five steps for achieving success with vinyl pop up displays at events.
Research the Local Vendors
Selecting experienced vendors with high quality vinyl pop up products can help organizations to reduce their challenges in the long-term. It's important to work with a company that has at least a decade of experience in the marketplace, as well as several different product options.
Consider Set-Up Timeframes
Setting up the display at the event should be a leading consideration. Oftentimes, companies can save time and improve their return on investment by turning to professional trade show display crews to complete the setting up and dismantling work.
Analyze Display Design Options
When working with trade show display companies to locate quality popup displays, company owners should also choose a firm that offers display design as part of their service. This professional design work can help small businesses better compete with their more established counterparts.
Train Staff Members to Use Displays
When working with the latest vinyl pop up display options, business owners can achieve full value for money when ensuring their staff have a full understanding on how the display works. Work with staff well ahead of the scheduled event to ensure they know the functionality of the display inside and out ready for event day.
Arrive Early on Event Day
On the day of the event, it's important to make sure the entire team arrives early. This will help ensure that any last minute questions are answered and the team has the time to become acquainted with the event space.
By following this step-by-step strategy, companies can ensure they make effective use of their vinyl pop up display at upcoming events. To learn more, contact the team here at Best Displays directly at 905-940-2378.