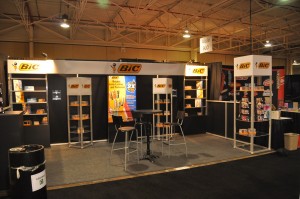 May 31, 2016 – A company's trade show architecture will represent their brand at their upcoming events. It will detail their latest products and provide event attendees insight into the organization and its commitment to professionalism. This means that older trade show booths can have a negative impact on the company's marketing campaigns. In this post, our team presents four signs it is time to replace trade show booths.
The Exhibit Photos Feature Older Hairstyles
If the people in the company's exhibit photos looks as if they're stuck in the 1990s, then the brand will likely be doomed to failure in making a lasting impression at events.
The Display is Chipped or Dented
Even the smallest imperfection in a trade show display can make a lasting impression on trade show visitors. A chipped or dented display could indicate to event attendees the company simply isn't committed to professional branding.
The Brands Colours Have Changed
When a company has changed branding colours over many years, it's important that their trade show displays reflect that change. Inconsistent branding at trade show events can leave attendees confused and will reduce the chances of the company making a lasting connection.
The Display Doesn't Support Event Communications
Today's event team requires access to the latest Wi-Fi tools and mobile technology to support their event activities. Older systems often don't support this level of communications connectivity, severely limiting teams in meeting their event objectives.
Consider the guidelines within this blog when determining if it's the right time to replace your trade show booths in 2016.  To learn more, speak with our trusted team today at 905-940-2378.