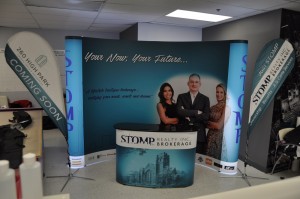 July 21, 2016 – When buying a trade show display booth, Toronto companies are looking to invest in a specific type of product. They require display booths that are built to the highest of standards. For those just entering the marketplace, it's important to learn more on the qualities that represent leading-class display booth products. In this latest post, our team highlights four important qualities Toronto companies seek in a display product.
Durability
The display booth should be designed for optimal durability over several years. It should be crafted from sturdy materials and built to endure transportation from event-to-event.
Unique Aesthetics
Unique branding can captivate consumers. It's critical for companies that their display booth features unique aesthetics aligned with their core branding objectives. Business leaders must work with professional design teams to analyze the various aesthetic options for their display booth.
Collapsible
The display product should be collapsible for optimal storage within confined spaces. Most companies don't have a significant amount of space within their offices for large display products, and so the display booth they invest their money in should be designed to collapse into smaller pieces for seamless placement ready for the next event.
Simple to Set Up
The set up process for display booths can often take time away from the sales team during business events. This means that the products chosen should be simple to set up so that teams can conserve their energy and their time and focus on their promotional activities.
The specialists here at Best Displays & Graphics are ready to help guide you on choosing the best available display booth for your organization. To discuss your event needs with our experts, call us directly today at 905-940-2378.