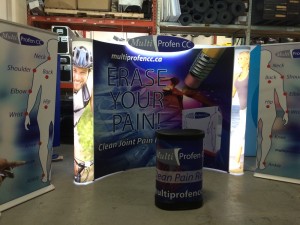 May 17, 2016 – Professional graphic design captures the attention of qualified buyers. It compels buyers to action and helps companies make a clear return on investment in their marketing campaigns. But many owners of growing businesses don't have a clear picture on graphic design techniques, and so in this latest post, we'll highlight four graphic design tips that bring in booth visitors at Toronto tradeshows.
Capitalize on Display Lighting
Prominent displays use the leading lighting tools to bring attention to the display material. Companies hosting displays in Toronto must incorporate professional lighting as part of their graphic design budget. Business owners should speak with event venues before the day arrives to find out more on the type of equipment required.
Contrast Text and Images
The contrast between the text and images used within the display should be high. Companies should review the colours of their display carefully before it goes to print. Then determine whether their content stands out on the substrate. For growing companies, it's also important to consider display branding. Is the company's logo and product information prominently displayed? This will help engage potential buyers.
Highlight USP
What is the company's Unique Selling Proposition (USP)? The answer should be clear from viewing the graphic design of their displays. By highlighting their USP across their displays and showcasing elements such as product benefits and past awards, companies can quickly showcase their marketplace reputation.
Follow-Up with the Designer
When finalizing the display, it's important to follow-up with the graphic design team to ensure there are no concerns. Consider all viewing angles and ensure the material will hold up well during the event. It's also important to check for grammar and other editing issues before the design goes to print.
By conducting a thorough design process, and working closely with an expert graphic design team, companies can ensure they communicate with precision from their tradeshow displays. To learn more, speak with the team here at Best Displays & Graphics directly at 905-940-2378.