December 15th, 2014
Within the trade show environment, companies can maximize their engagement with the audience through trade show banners. These cost-effective display products can help drive interest in a brand and ensure that growing companies compare well with their more renowned industry counterparts in the trade show space. To ensure the best return on investment for trade show banners, companies must understand how to integrate banner products at the event. In this blog, we'll provide an overview of three tips for ensuring eye-catching trade show banners.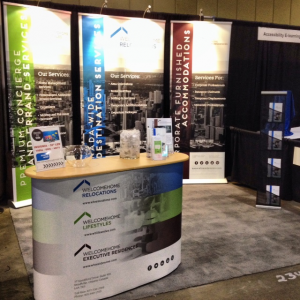 1. Finalize Design with a Design Specialist
By working with a design specialist, business owners can ensure their trade show banners offer captivating aesthetics. It's important to work with a company that offers experience within the field, as well as a specialist that can offer both access to design expertise and banner products.
2. Look at the Banner from All Angles
Before finding the ideal placement for trade show banners, it's important to review the display from all angles to catch any lighting issues. Sometimes, the light within a trade show environment can make it difficult for some members of the audience to see the display. By positioning the banner optimally before the event begins, businesses can reduce viewing issues.
3. Use a Spotlight to Drive Interest
A spotlight can be the ideal trade show addition for companies that are intent on engaging event attendees. People are naturally drawn to spotlights and the additional lighting can help the banner stand out against the many other displays at the event.
By utilizing the industry's best practices for integrating banners, trade show promoters can help their brand maximize its event appeal. To learn more on the best ways to utilize banners within a trade show event, speak with one of our experts directly.