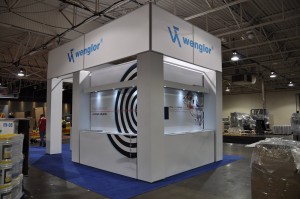 July 7, 2016 – A growing company must craft elegant and compelling tradeshow booth designs in order to capture the attention of their ideal customer at business events. Our team has many years' experience helping growing organizations take control of their market sector and engage their most qualified buyers, and in this latest post we present our three tips for catching the eye of your ideal customer with your tradeshow booth designs.
Consider the Language Your Ideal Buyers Use
Are your ideal customers a business leader? Are they a shopkeeper focused on the bottom line? What words do they use when conversing with their team on a daily basis? When trying to communicate with your ideal buyers, you have to consider how they want to be engaged. Review conversations online between people in your ideal customer's marketplace and look out for words you can harness in your designs.
Pinpoint The Buying Stage of Your Ideal Customer
Your ideal customer might not be ready to make an investment in a product. They could simply be investigating the available options and analyzing where to make their next purchase. Your design should reflect their buying stage. For example, for buyers investigating the market products, you could include a stat that proves the value of your solution over others in the industry.
Learn the Value of Your Booth Space
Oftentimes, when offering information to potential clientele, less is more. Try to use limited language and only offer information relevant to your marketing campaigns. This will help limit the confusion of potential buyers and ensure you're making the best case for your firm.
To discuss trade show booth design options with a qualified design expert, call our team directly today at 905-940-2378.