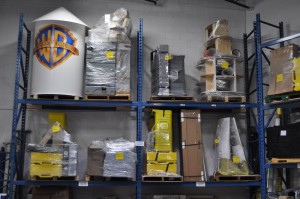 June 30, 2016 – We often take great care in considering how our trade show booths are used at the event. But what happens when the lights are off, the bags are packed and the tradeshow booth has to be put in storage for the next promotional event? Tradeshow booth storage services companies can help protect your tradeshow architecture over the coming months. In this post, we'll present three questions to ask potential tradeshow storage specialists.
What is Your Experience?
Working with a company with significant industry experience benefits your organization in multiple ways. Firstly, it will ensure that any questions can be answered based on an understanding of the industry and the materials used within the latest displays. And secondly; it will help ensure the company doesn't make any mistakes during the storage process, to ensure the booth remains in optimal promotional condition.
Do You Offer Additional Services?
Some companies offer tradeshow storage services, in addition to tradeshow design and sales. By turning to a specialist for several services, you should be able to consolidate your business event costs considerably. It's important to first determine your full array of event needs, and then work with the company to see which of these requirements they can meet through their services.
What are Your Storage Time Limits?
Some companies have limits on the amount of time your display can be within their storage units. This time limit might be a year or it could be five years. Consider the amount of time you'll require for on-going storage and then discuss these requirements directly with the specialist.
Our trusted team of tradeshow experts can help guide you in choosing a booth storage services company. To learn more, contact us today at your convenience via 905-940-2378.