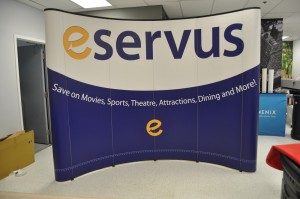 March 10, 2016 – Trade show displays hold exceptional value within marketing campaigns. They can be harnessed to captivate new audiences and to bring brand recognition to a new local organization. But to capitalize on this value, business leaders must recognize the hidden potential within their displays. And so within this post, our expert team highlights their three hidden rules of marketing with trade show displays.
The Larger the Main Image the Better the Clarity of the Marketing Message
Business leaders must focus on large-form graphics within their display to ensure their marketing messages are delivered effectively. Business event attendees rarely have the opportunity to take time to read a display. This means companies must use displays that grab and hold the attention while highlighting the brand and its competitive advantage.
The Older the Display the Less Innovative a Company is Perceived
Companies with older displays can be deemed out of touch by trade show audiences. It's why it's vital for growing brands to use cutting-edge displays to promote their trade show messaging. Renting a newer display might be a good alternative to using the same old system for this year's events.
Design Decisions Become Increasingly Complicated with Each New Stakeholder
Company owners can find themselves increasingly weighed down with design challenges if they have too large of a team making the decisions. The choice of design for the company's display should be down to one or two people. This then ensures a simplified design can be created within a short timeframe.
Experienced trade show exhibit hosts will recognize these hidden rules of the event marketplace. Now, new business owners can use this information to enhance their display for upcoming events. To learn more on this topic, contact our expert team today at 905-940-2378.