As businesses start to reopen in 2021 after the COVID-19 lockdowns of 2020, promotion will be more important than ever. You need to get the word out that you're open for business and that you're safe for people to visit. We carry a full range of social distancing signage and other products which are good for a start, but you'll want plenty of different types of promotional items to attract people's attention.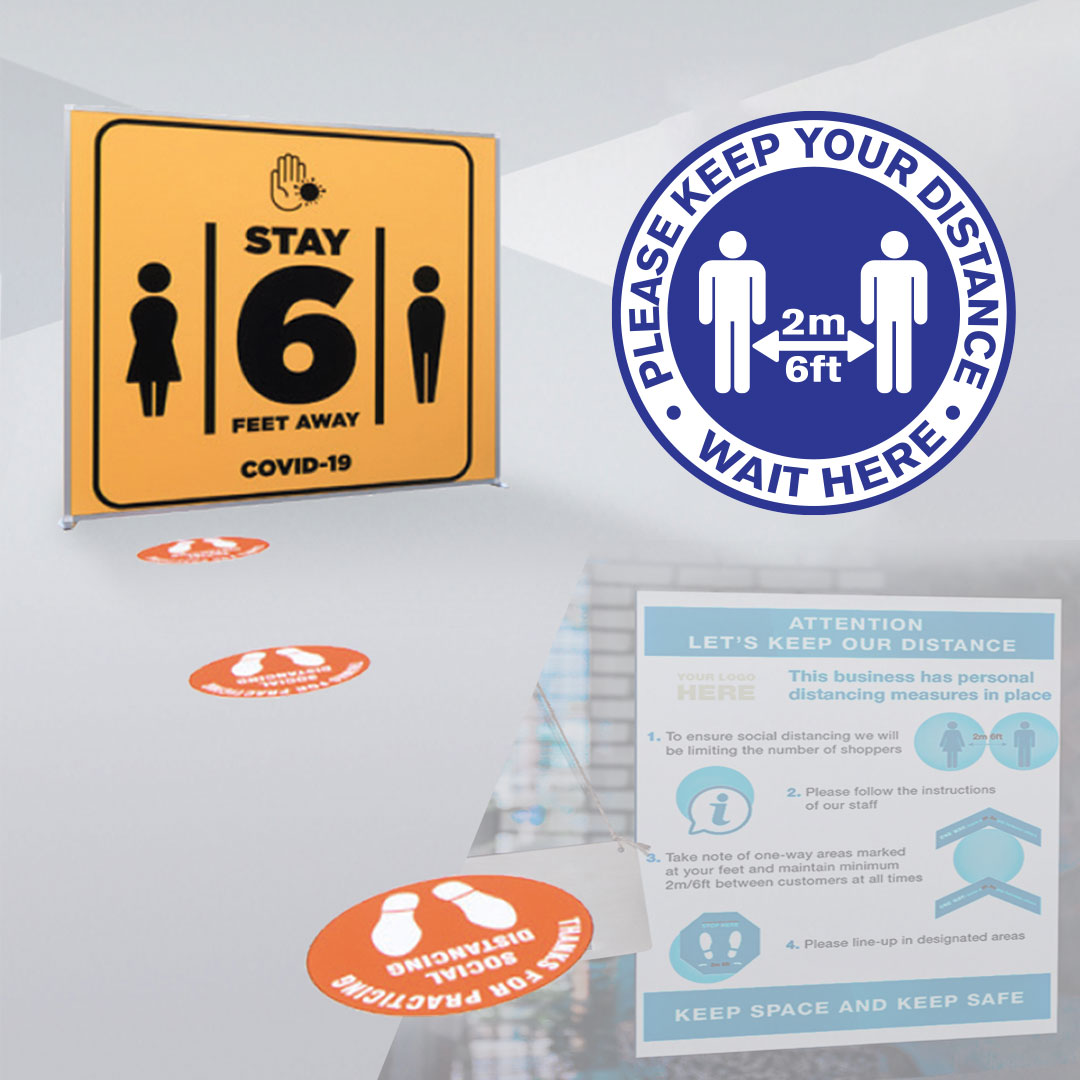 Here are some of the most important types of indoor and outdoor promotion that will be perfect for outreach in 2021.
Five Must-Have Indoor & Outdoor Promotional Tools
1. Floor / Window decals
Decals are great for outreach because they're cheap and replaceable while being more durable than simple signs in your windows. Stickers announcing your re-opening or marking your shop as a safe place to visit during the pandemic can go a long way in making a positive impression on your clientele.
2. Banner stands
Banner stands are always eye-catching, particularly when they're printed with bright inks that stand out even in sunlight. Being lightweight and easily moved or stored, they're also highly versatile. A good banner stand could be in your foyer one day and advertising your business at an outdoor fair the next day.
3. Outdoor vinyl signs
Vinyl is a great material for portable outdoor signs due to its lightweight and durability. Signs placed around your entrances and exits will attract attention from anyone passing by, or even driving by on the street.
4. Wind flags
Flags are one of the oldest types of signage, and one of the most effective! A flag fluttering in the breeze is automatically eye-catching with extremely high visibility in nearly all weather conditions. You can also get flags in a huge range of sizes and shapes, so there are options suitable for any kind of outreach.
5. A-frame signs
Classic A-frame signs aren't as eye-catching as some other options, but they can contain a lot of information. These can be extremely effective for advertising your social distancing policies or other health and safety measures for everyone's protection.
Just remember, you're advertising two things here: your own business, as well as your safety measures. You want people excited to visit your business again and for them to feel safe while they do so!
Best Displays & Graphics has a full range of social distancing signage to market your business! Contact us to place your order today!