With the warmer weather now upon us and the effects of the pandemic balancing out in some areas, you might be wondering if you should begin investing in spring and summer outdoor marketing materials. Well, the team from Best Displays & Graphics is here to tell you that doing so is certainly worth the investment.
A solid inventory of outdoor marketing materials can help your brand communicate important information and even serve as social distancing products for your business. Here are some of the most popular options available.
1. Café Barriers or Vinyl Signage: Café barriers are the ideal outdoor marketing solution for storefront businesses. Use them to implement social distancing on your patios, or to market your brand out front of your business. Additionally, vinyl signage posted can convey ordering information to customers, as well as information about social distancing.
2. Wind Flags: Whether you're participating in outdoor events this summer or not, large wind flags can help get your brand get noticed by passerby's. Adding a wind flag at your store front can make it easier for potential customers to find their way to you. Or implement flags as a social distancing solution to guide customers to designated curbside pick-up spots.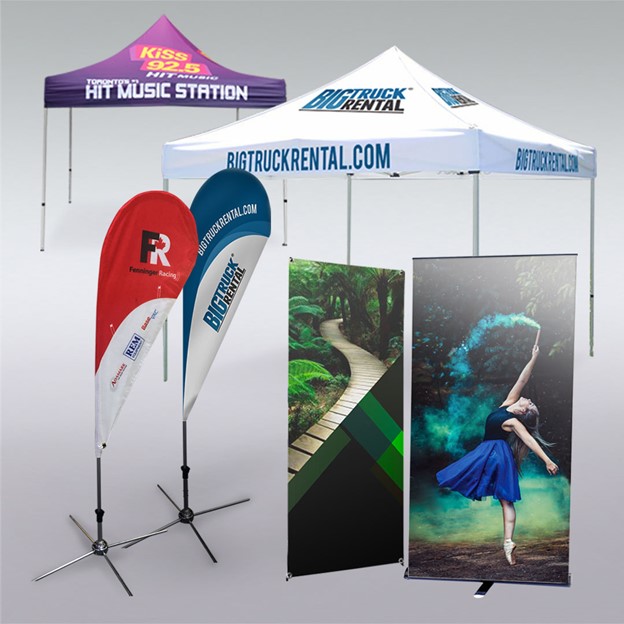 3. Event Tents: If you are able to participate in outdoor events this summer, event tents can be great marketing tools, showcasing your brand and corporate vision, while also offering people a chance to get out of the sun and peruse what you have to offer in your tent. Alternatively, use event tents outside of your business to safely interact with consumers while maintaining appropriate social distancing measures.
4. Outdoor Banner Stands: Banner stands are another fantastic and easy-to-use marketing investment that can be relatively inexpensive. One of the best things is that they're portable, making it a breeze to place them wherever you want. Use your banner stand graphics to inform customers of new products, sales, or changing business practices and policies.
5. Golf Signs: If you have a local golf club or driving range nearby, golf stands are a great way to promote your business and they'll be seen by a lot of people. Eventually, you'll find you might have more customers or foot traffic that have been attracted from your advertisement on the course.
6. Go Custom: One of the best parts about working with an experienced display design team is that they can help bring your marketing vision to life. If none of the things above appeal to you or simply aren't right for your business, opt for a custom display solution.
Make your outdoor marketing count with Best Displays & Graphics!
If you're looking to take advantage of the warmer weather marketing opportunities, don't hesitate to contact us today for a complimentary consultation or call (905) 940-2378.