Amidst the COVID-19 pandemic, it is important to protect those in the workplace with increased sanitation protocols and social distancing products. One of the most effective ways to stop the spread of the virus is to create physical barriers using acrylic shields.
At Best Displays & Graphics, we offer a variety of acrylic shields for your desks, cash registers, dining tables, and much more. Continue reading to learn five ways that you can use acrylic shields to stop the spread of COVID-19 in your workplace.
5 Ways to Protect Employees and Patrons with Acrylic Shields
1. Separate workstations
Many employees work in close proximity to others throughout the week in an office space, which can make social distancing a challenge. When physical distancing is not an option, dividing workstations with acrylic desk shields is a great way to keep your employees safe in a close-packed space.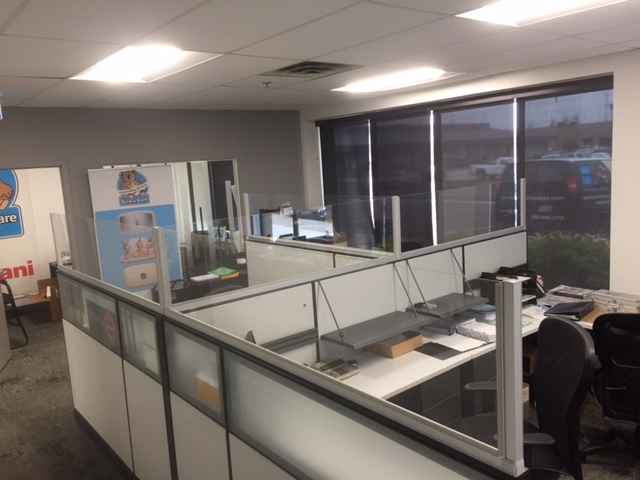 2. Protect front office staff (reception)
Reception rooms are some of the most high-contact areas in an office space. With clients coming in and out of your workplace to speak to the front office staff, it is important to create a barrier between your employees and incoming patrons by using a clear shield that allows safe interactions.
3. Promote social distancing in your lunchroom

Most workplaces have a designated lunchroom where employees gather in a relatively small space. This problem is tricky to get around if you don't have the right social distancing equipment. By placing mobile screens between lunch tables, more employees will be able to take breaks at the same time without the risk of close contact with coworkers. Additionally, we recommend placing social distancing decals on the floor to remind employees to maintain a safe distance from those around them.
4. Enable safe collaboration in boardrooms

While video conferencing has become increasingly popular among workplaces, there are times where in-person collaboration is necessary. If this is the case, acrylic shields will allow you to meet with your team without risking contamination.
5. Create physical barriers in any common area

Whether you work in a restaurant, hair salon, gym, office, or retail store, social distancing is the key to keeping your team healthy. Clear, acrylic screens are the perfect way to protect your staff and patrons from COVID-19 while continuing business operations as usual.
Best Displays & Graphics
Practically any workplace can fight against the spread of COVID-19 with the right equipment. Let Best Displays & Graphics retrofit your workplace for social distancing with desk shields, sneeze guards, decals, and more. Contact us today for a free consultation!